Tom Brokaw Talks 'Gossip' Journalism And 'Vicious' Cable News On Daily Show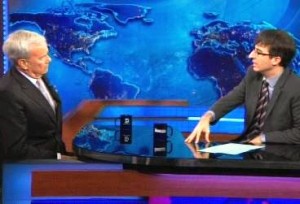 John Oliver spoke with NBC News' Tom Brokaw on The Daily Show tonight that touched on Brokaw's long career, his show on the Military Channel, and the state of cable news. Brokaw opened the interview joking about how much better Jon Stewart looks with plastic surgery. Oliver praised Brokaw's show, and asked him if journalism has gotten better as it's gotten faster in the last few years. Brokaw said that consumers now have to go beyond being couch potatoes, that news is a lot more interactive these days.
He admitted that the news is very "cluttered with chat" and "vicious attacks," with Oliver suggesting that the increased "speed has cost us thought." Brokaw said that there was a lot more patience back during Watergate and if that scandal happened nowadays, people would be speculating wildly about Nixon's guilt even before any evidence gets out. Oliver brought up CNN's Boston bombing coverage, and said they wee "literally talking faster than they were thinking." Brokaw explained that journalists can't keep "chasing" technology and they should take a step back every once in a while.
Oliver brought up Scott Pelley saying that journalism is now devolving into gossip. Brokaw expressed hope that younger people are able to sort out the good news from the junk news online, and that may bode well for the future of news.
Watch the video below, courtesy of Comedy Central:
—–
Follow Josh Feldman on Twitter: @feldmaniac
Have a tip we should know? tips@mediaite.com
Josh Feldman - Senior Editor