Tom Brokaw to Hannity: Media Got My Brian Williams Reaction 'Completely Wrong'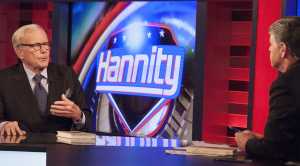 Former NBC Nightly News anchor Tom Brokaw has been reticent to say much of anything on the record about his successor Brian Williams' ongoing integrity problems, which means some reporters have been eager to put words in his mouth. During a rare interview with Fox News' Sean Hannity Monday night to promote his memoir, A Lucky Life Interrupted
, Brokaw said almost every comment about the story that has been attributed to him has been "completely wrong."
Over the last few months, the New York Post claimed Brokaw wanted Williams' "head on a platter." NPR's David Folkenflik said the two men's private relationship was "cool and evolving to frosty." And New York Magazine quoted Williams complaining that his "ghost," AKA Brokaw, was "still walking the building."
"We have a process under way in fairness to Brian and, by the way, we have always had cordial relationships, in fairness to him and his family, we need to let the process play out," Brokaw told Hannity. "And there's been way too much speculation. I read things attributed to me or what my state of mind is — completely wrong, almost all of them. I hope that this can get worked out to the advantage of everybody, but we have got to let the process play out."
Brokaw and Hannity then commiserated with each other about times during their respective careers that they have seen their names dragged through the mud, perhaps unfairly.
"Everybody feels free to comment with whatever they want to say and some of it was pretty unattractive, I've got to say," Brokaw remarked.
"You can Google me if you want to see unattractive, I have lived it," Hannity replied.
Watch video below, via Fox News:
[Photo via screengrab]
— —
>> Follow Matt Wilstein (@TheMattWilstein) on Twitter
Have a tip we should know? tips@mediaite.com