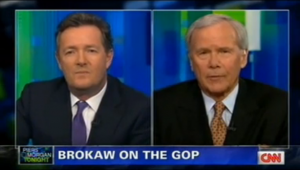 During his interview Thursday, Tom Brokaw told CNN's Piers Morgan he believes voters should be privy to "as many debates as possible" in order to get to know the candidates as well as possible. He also advised voters and journalists) not to act as if any one candidate has already run away with the election.
"I don't know what's going to happen in the next month or so," he added, looking back on his own experience reporting on election cycles. "It's important for all of us, journalists especially, to remember not a vote has been cast so far."
Talk of poll numbers soon lead to Jon Huntsman, whose numbers — as Morgan pointed out — have remained low, much to the surprise of some "intelligent people" in Washington. Can Huntsman still turn things around? Brokaw seemed hopeful, noting that Huntsman has a very "impressive resume" and a "strong conservative record" to support him… even if he doesn't quite "fit" with the way the GOP field has been shaping up thusfar. Which may also eventually be to his benefit, of course, as time marches on.
As for Mitt Romney calling rival front-runner Newt Gingrich "zany," Brokaw pointed to Gingrich's tenacity as a candidate, especially given the way he's managed to bounce back after having his staffers walk out on him. Plus, he points out, Gingrich knows how very well how to speak to the GOP base because he, in fact, "helped invent it."
RELATED: Newt Gingrich Says Campaign Staff Left Over 'Strategic Differences'
Talk then turned to Donald Trump, this election's resident pilot fish, with Brokaw weighing in The Debate That Never Was:
Listen, I didn't have anything against it. I've known Donald Trump for a long time. Donald Trump is a part and powerful of the city of New York and he's always been one of those larger than life figures. And I said he's a shameless self-promoter; I don't think anybody could object with that.
"My problem with it was," he added, "and I'm sorry, Piers, but I thought he got way too much attention."
Have a look, via CNN:
Have a tip we should know? tips@mediaite.com