Tom Coburn Fights Axelrod Over Obamacare: 'It's Not the Ideas, It's Gov't Is Incompetent'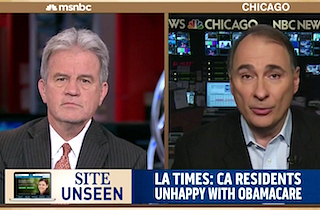 Senator Tom Coburn (R-OK) and Democratic strategist David Axelrod went a few rounds on the Affordable Care Act on Morning Joe Monday morning, differing wildly on whether the law's implementation problems spoke to a fundamental problem in the government's participation in the health care industry, or whether the ACA would, like previous social insurance programs, prove to overcome initial resistance.
Axelrod defended the law's effect on health costs, its transfer of people into more comprehensive and affordable policies, and its inclusion of those who could not afford health insurance before. He also told Coburn that government's role in health care had engendered similar complaints before, but grown to be popular.
"Nobody is suggesting that we should disband Medicare," Axelrod said, "although we heard many of the same complaints about Medicare back in the day when Medicare was being implemented."
"Medicare is bankrupt," Coburn said. "20% of everything that's spent in Medicare is defrauded from the government. Over $80 billion a year is defrauded. How is that running for us? I'm not against Medicare but how about have it run in a way—private insurance fraud rate is less than 2%. We're ten times greater because we don't know how to do it, we don't function effectively when the government does it."
"What you're seeing roll out with the Affordable Care Act is same incompetencies we see in large bureaucratic institutions," Coburn continued. "It's not that the ideas are bad in the Affordable Care Act. It's we're incompetent to roll it out and we've proven that today."
Coburn also claimed that he and his Senate colleagues had proposed a viable alternative to Obamacare.
"Go read about Patient's Choice Act," Coburn said. "Senator Burr, myself and about 20 other Republican senators. Every aspect you're seeing that's positive in the Affordable Care Act was in that bill, except ours doesn't cost $2.6 trillion. Ours isn't run by the government. Ours is run by the private-sector, with transparency, and mandates that you have to be transparent."
Watch the full clip below, via MSNBC:
[Image via screengrab]
——
>> Follow Evan McMurry (@evanmcmurry) on Twitter
Have a tip we should know? [email protected]