Tom Cotton Rips Into Reid From Senate Floor: 'Vulgar, Incoherent Ramblings,' 'Cancerous Leadership'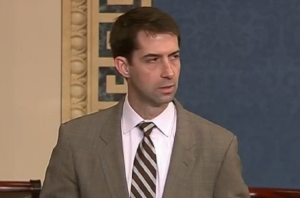 Republican Arkansas Senator Tom Cotton pulled no punches in attacking Democratic Senator Harry Reid on the Senate floor Wednesday, slamming him for "outrageous slander" and "cancerous leadership."
"As a junior senator, I preside over the Senate. I usually do in the morning, which means I'm forced to listen to the bitter, vulgar, incoherent ramblings of the Minority Leader," Cotton said. "Normally, like other Americans, I ignore them. I can't ignore them today, however."
Cotton tore into Reid for stalling a vote on a crucial defense bill, even though the bill eventually passed 98-0. "When was the last time the Minority Leader read a bill? It was probably an electricity bill," Cotton quipped.
Cotton especially mocked Reid's complaint that the bill was crafted in the "dark of night" despite being public for weeks. "And this coming from a man who drafted Obamacare in his office and rammed it through this Senate at midnight on Christmas Eve on a straight party-line vote?"
Cotton took particular offense to the fact that Reid called he was "doing it for the troops" while attacking Arizona Senator John McCain, calling it an "outrageous slander… How about this troop and his son and his father and his grandfather, four generations of service, to include almost six years of rotting in a prisoner of war camp?" he asked.
"To say that he's delaying this because he cares for the troops, a man who never served himself, a man who in April 2007 came to this very floor before the surge had even reached its peak and said the war was lost, when over 100 Americans were being killed in Iraq every month, when I was carrying their dead bodies off an airplane at Dover Air Force Base? It is an outrage…"
Cotton said Reid had only delayed the vote to preserve his "sad, sorry legacy… the happy by-product of fewer days in session in the Senate is that this institution will be cursed less with his cancerous leadership."
Watch above, via CSPAN.
[Image via screengrab]
——
>>Follow Alex Griswold (@HashtagGriswold) on Twitter
Have a tip we should know? tips@mediaite.com