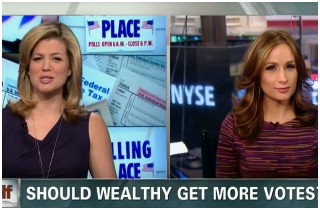 Billionaire Tom Perkins appears to have made a dubious habit of poking the bear of populism and inter-class resentment. It may not be the most well-advised courses of action, but we all have our hobbies.
Perkins recently ignited controversy when he compared the plight of the scapegoated wealthy with that of Jews in Nazi Germany. He later apologized for that remark. But Perkins took this aggressive tactic to a new extreme recently when he told an audience at a speaking engagement that his idea to "change the world" would be to give the wealthy a greater say in the political process than the less well-off.
"The Tom Perkins system is: You don't get to vote unless you pay a dollar of taxes," the venture capitalist said when asked how he would change public policy for the better. "But what I really think is, it should be like a corporation. You pay a million dollars in taxes, you get a million votes. How's that?"
This intentionally provocative comment really hit its mark. A segment discussing this remark on CNN's Wolf on Friday, hosted by fill-in anchor Brianna Keilar, could have been at home at any daypart on MSNBC. Perkins effectively trolled CNN into using the language of Occupy Wall Street (ill-defined terms like "the 1 percent" and "the 99 percent") without a hint of irony.
Keilar and correspondent Alison Kosik briefly pondered whether Perkins was being deliberately inflamatory before dismissing the question and actually pondering the merits of his proposal. They were aghast that, because roughly half of the public doesn't pay the progressive income tax, Perkins was advocating for the disenfranchisement of nearly half of America's eligible voters.
"Yes, so a lot of laughter there as a reaction," Kosik conceded, "but it's not really clear if he meant this as a joke or not."
Yes, it is hard to tell if he "meant this as a joke or not." … unless you happen to read CNN.com.
There, you'd find that CNN reporter Charles Riley caught up with Perkins after he made the controversial remark and asked him to clarify his statement. "I intended to be outrageous, and it was," Perkins told Riley.
Perkins seemed to be aware that he was courting controversy, saying that his voting proposal would "make you more angry than my letter to the Wall Street Journal."
Perkins comment was not a joke so much as it was a statement designed to get precisely the reaction it has received. This kind of premeditated incitement, designed to provoke an outraged response, is colloquially referred to as "trolling," and boy did Perkins get CNN between tail and legs.
Chances are that both host and correspondent were aware of their own organizations reporting on Perkins' comment and simply omitted it in order to provoke even more outrage from their viewing audience. It may not be ethical reporting, but is sure is good television.
Watch the clip below via CNN:
[Photo via screen grab ]
— —
> >Follow Noah Rothman (@NoahCRothman) on Twitter
Have a tip we should know? tips@mediaite.com