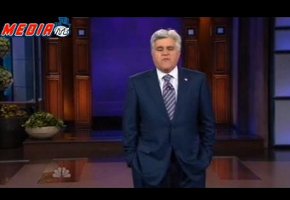 By now you likely know that our White House correspondent Tommy Christopher made news for live-tweeting his own heart attack, a rather unique decision he recently expanded upon for Mediaite. And his notoriety shot up another level tonight when none other than Jay Leno joked about his situation for a Tonight Show monologue.
In the clip, which you can see below, Leno name-checks Tommy, and calls the heart attack tweet possibly "the strangest tweet of the week." And then, the punchline: "Doctors are not worried about him losing his life, because apparently he never had one." Leno them approximates Twitter usage by stringing together a bunch of acronyms, which is totally how it works.
We couldn't resist asking Tommy (from his hospital bed) his opinion on the most significant publicity his tweets have gotten yet. When told he'd made Leno's monologue, he responded, "Now, I can die a happy man." And true to form, he responded to Leno's monologue joke with…monologue jokes:
He's wrong, though, I did have a life, until NBC decided to let Leno have it.

If you watch really closely, you can see my hospital room on the 4th floor of Jay's chin.

Jay also sent me a card, welcoming me to his demographic.
It's safe to say this story has blown up beyond anyone's wildest expectations. And even if it involved getting made fun of, we congratulate Tommy on the recognition, which is, in his words and ours, "pretty awesome." Video of Leno's joke below.
Have a tip we should know? tips@mediaite.com