Tonight Show With Jimmy Fallon? NBC Reportedly Bringing Late Night Show To New York By Fall Of 2014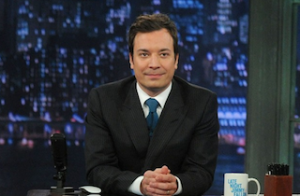 After more than four decades on the west coast, the Tonight Show may be coming back to New York City by next year, with Jimmy Fallon succeeding Jay Leno as host.
The New York Times' Bill Carter is reporting that while no formal deal is set, NBC has "made a commitment" to Fallon that he will host take over from Jay Leno by the fall of 2014 at the latest. The show would move from Burbank, California to NBC's 30 Rockefeller Plaza studios where Fallon currently tapes his Late Night show.
The Tonight Show began in New York in 1954 and only moved west in 1972 when host Johnny Carson decided that location would give him access to better Hollywood guests. Leno's primary rival David Letterman has been hosting the Late Show on CBS from New York's Ed Sullivan Theater for nearly 20 years and other major late night entities such as The Daily Show and The Colbert Report also tape in New York. The Tonight Show move would leave Jimmy Kimmel as the sole 11:35pm competition still taping in Los Angeles.
Without an official deal signed, Fallon has some reason for concern, given the plight of Conan O'Brien when he briefly took over the Tonight Show in 2009 before being forced out when Leno decided to return. Of course, in that case, NBC convinced O'Brien to move out to southern California, whereas their decision to move the show to New York for Fallon has to be seen as a vote of confidence.
As for who will take over Fallon's 12:35am show on NBC, the latest name to be rumored is radio host Howard Stern. Stern does not fit the young upstart profile that the job has typically required, but with a broad fan base of younger males, he could be an interesting and unconventional choice for the network.
—
>> Follow Matt Wilstein (@TheMattWilstein) on Twitter
Have a tip we should know? tips@mediaite.com