Tonight's Debate Now Beyond Insulting as Moderator Meets with Campaigns Beforehand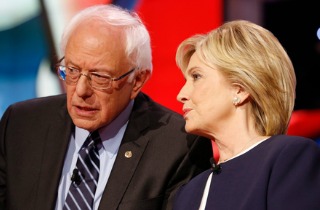 With the backdrop of the horrific events of the Paris terror attacks at the hands of ISIS, the second Democratic debate will proceed as planned on CBS tonight. Debbie Wasserman-Schultz tells Bloomberg News that the attacks are "all the more reason to have a discussion about our candidates' vision and view about how to best keep Americans safe and make sure we can fight terrorism."
Of course, as Mediaite's J.D. Durkin nicely pointed out yesterday, this is the same DNC Chair who helped rig this farce of a debate schedule to ensure as few voters as possible hear exactly what Hillary Clinton, Bernie Sanders, and Martin O'Malley have to say on any and all matters when sharing a stage moving forward. How's that, exactly? The next three debates––the only ones scheduled before the Iowa caucus and New Hampshire primary––will be held on weekend nights, including two on Saturday starting tonight in Des Moines, Iowa.
Note: This will be the only debate scheduled in Iowa before the January caucuses. Will viewing parties be held far and wide across the Hawkeye State? Absolutely. Except most won't be watching the candidates, but the actual Hawkeyes in the form of the undefeated University of Iowa football team as they take on Big-10 rival Minnesota. "Do I think that the DNC almost certainly knew that the Iowa game was scheduled for 8 p.m., and now the debate is scheduled for [the same time]? Yes," says Democratic strategist Bob Shrum in an interview with National Review. "If you want to diminish the audience for the debate, and if you want to protect the front-runner, you would do that."
What also diminishes an audience from a national perspective is scheduling any event on a Saturday night, which is easily the least-watched evening in television. But here's the real irony: Mrs. Clinton acquitted herself with a fine performance during the first Democratic debate last month under solid questioning from moderator Anderson Cooper. It helped, of course, she was up against three sea turtles and a cowering socialist… a scenario where just about anyone with her debate experience (27 in 2008) was going to shine simply because the contrast was so weak and/or accommodating. But the plan to shield Hillary–whether that be through a limited debate schedule (six total compared to 11 for the GOP) or via having the next three on weekend nights to minimize eyeballs–was hatched long ago when the Clinton campaign hid its candidate so much, the Washington Post created a running clock of the time between Hillary interviews (reaching over 40,000 minutes at one point)
And by the time we get back to actually having one of these things on a weekday night, Iowa and New Hampshire will be in the rearview mirror. Speaking of those final two debates, those will be held on a Wednesday and Thursday night… on PBS and Univision.
Turning back to tonight's proceedings, it's obvious moderator John Dickerson (also host of Face the Nation) will need to change course from his originally-planned questions and put the Paris attacks at the forefront instead. The big question is: Will said moderator try to schedule more meetings with the candidates' teams to ensure everyone is on the same page? No word as of this morning, but it was confirmed that Dickerson actually met with Team Clinton, Sanders and O'Malley on Friday. No, really…this isn't a joke. Per Politico:
Moderator John Dickerson and his team met with each of three campaigns for over an hour to discuss the major issues at play in the race, sources on the campaigns said, describing the pre-interview as "informational in nature."

Prior to the CNN debate, the campaigns said moderator Anderson Cooper did not reach out directly to them before the candidates took the stage.

"[Dickerson] and his team were very interested in getting to better know the senator's stand on a wide spectrum of issues, what he would do about income inequality in this country," said Sanders spokesman Michael Briggs. He said they discussed issues where there are real differences between the candidates — including gun control, the death penalty and raising taxes on the middle class. "John Dickerson's a smart, impressive guy who cares a lot about the issues," Briggs said. "I'm sure we'll see a smart, issues oriented debate."
Of course, this is the same Dickerson who has been called into question in the past regarding his rhetoric toward the Republicans party in general over the years, most notably with this controversial piece penned for Slate that caused some major ripples at the time:
Go for the Throat! Why if he wants to transform American politics, Obama must declare war on the Republican Party
The exclamation point is a nice touch, dontcha thnk?
Money quote from the piece: "Obama's only remaining option is to pulverize. Whether he succeeds in passing legislation or not, given his ambitions, his goal should be to delegitimize his opponents."
If you're RNC Chair Reince Preibus, upon hearing this news you should be demanding Dickerson be replaced for the GOP debate he's also supposed to moderate next year. And while you're at it, start to do some serious self-reflection on your vetting capabilities as a whole.
So if you're wondering why Wasserman-Schultz (and by proxy, Team Clinton) pushed for Dickerson over other CBS talent like Steve Kroft or Scott Pelley, you now have your answer: because he has the common courtesy to meet with the candidates' team beforehand (which is completely uncommon) and he's shown to share the same philosophy as the party frontrunner, who declared during the last debate that Republicans, not ISIS, are her biggest enemies. Again, for context, could you imagine the universal outrage across the media if Neil Cavuto or Megyn Kelly met with the teams of Republican candidates before their respective GOP debates? Twitter would break.
So given the backdrop going into this evening, will Dickerson challenge a recent Secretary of State on the multiple-nation-occupying terror caliphate ISIS has become while under her watch?
And if he does, will it matter if so few people see it?
The Democratic party is holding a debate tonight. Many will continue to watch ongoing coverage of the attacks in Paris on cable news, others will be tuned in to college football or be out with friends not watching television at all.
Yup… and that's just the way Debbie Wasserman-Schultz and the Democratic party wants it.
[image via Joseph Sohm/Shutterstock]
— —
Follow Joe Concha on Twitter @JoeConchaTV
This is an opinion piece. The views expressed in this article are those of just the author.