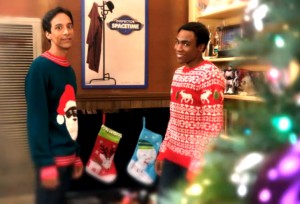 Last year's Community Christmas special was done mostly in Claymation, with the characters going on a somewhat-insane imaginary journey inside the mind of a member of their study group. Since then, the show has been put on "hiatus" by NBC.
Tonight's episode once again proves that to be a poor decision by the network, as this year's Christmas episode has the study group joining the glee club. Joel McHale, one of the stars of the show, explains that at the beginning of the episode, the college's glee club shows up in the cafeteria and annoys everyone with their singing, so his character, Jeff Winger, calls ASCAP and tells them that the club is using copyrighted music without the permission of the artists. This destroys the glee club, so the study group, one by one, ends up joining as their replacements.
"My character is adamant against joining the glee club — it is the worst thing that can happen." McHale explains "But I am seduced by Annie, [played by] the beautiful Alison Brie. She does a kind of Santa Baby stripper dance."
Entertainment Weekly's Keith Staskiewicz reviewed the episode in this week's issue, giving the episode an "A" grade and calling the parodying "spot on." He says that the show has some great digs at Glee throughout. Making it more enjoyable is the fact that a show on TV is doing an all-out parody of another show on TV. Once in a while there will be a mention of another show or network on a random episode of a series, and there are plenty of nods to older movies, but it's rare to see a show on air have some fun with another show currently on air.
Enjoy a preview clip from Thursday night's episode of Community, featuring a rap from Childish Gambino, the alter-ego of Donald Glover, courtesy of NBC:
Have a tip we should know? tips@mediaite.com