Tony Perkins: Media Largely Ignoring FRC Shooting, Doesn't Fit 'Storyline' That Conservatives Are 'Angry'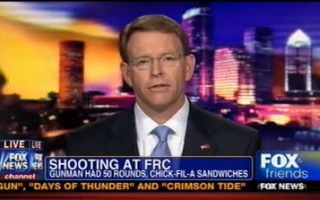 Family Research Council president Tony Perkins appeared on Fox & Friends Monday morning, where he shared that, as he's seen it, most major media outlets have largely ignored the recent shooting at the organization's headquarters.
RELATED: Tony Perkins To O'Reilly: Southern Poverty Law Center's 'Hate Group' Label Gave Shooter 'License'
Perkins began by sharing that the security guard injured during the shooting is recovering nicely, then added that the group has been more focused on its team and studying media coverage of the event. That said, Perkins noted that most of the coverage he has seen has happened to be on Fox News. And he has a theory about why that is:
….It doesn't fit the storyline. You know, it's supposed to be conservatives who are angry and who are filled with hate. And that's not the case. And, in fact, as I told Mike Huckabee over the weekend, as I talked to Leo, he was clear. And that is, he took the gun away from this man who attacked our building and our people and shot him. He took the gun away from him and held it on him until he got help, but he said the thought came to him that he might shoot. But he said, "No, the Lord told me 'don't do that.'" And he didn't. So that man left unharmed from our building, probably the only one who wasn't harmed in some form or fashion.
Perkins also reiterated his claim that the Southern Poverty Law Center's labeling of his organization as a "hate group" acted as a "spark" and helps in "inciting this environment of hostility."
Have a look, via Fox News:
Have a tip we should know? tips@mediaite.com