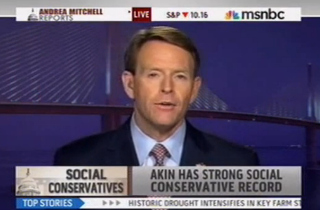 Thursday afternoon on MSNBC, Family Research Council president Tony Perkins downplayed GOP Senate candidate Todd Akin's controversial remarks about rape and pregnancy as a "Biden-ism," in reference to the vice president's recent string of seemingly inappropriate comments.
"It was a Biden-ism that he made," the Christian conservative leader told host Andrea Mitchell. "It was inexcusable, it was inappropriate. He has acknowledged as such, and he's moving on."
Perkins told Mitchell that he and other evangelical leaders recently met with Akins to assess his electoral prospects and figure out if his run can be successful without the backing of the Republican establishment. Perkins then reiterated his support for Akin as a candidate, noting that "he has been a strong advocate for national defense, a strong advocate for life and for the family and for all Americans, and so our position on him and his candidacy has not changed."
Mitchell pressed Perkins over whether he senses any wavering on the part of Akin, who now has until the next deadline of September 25th to back out of the Missouri Senate race with incumbent Sen. Claire McCaskill.
"Anything's possible," Perkins responded, "but he seems to be pretty steadfast in his decision that he's going to stay in this race and run."
Perkins continued on to say he thinks it is "time to move on" now that Akin has apologized: "We're not talking about a moral failure here. We're not talking about unethical or illegal activity. We're talking about someone who misspoke."
"I totally have rejected what he said as being inappropriate and unartful and he should have never said it," he continued. "I don't know why he was having that discussion. It is what it is. It's a Biden-ism."
Watch below, via MSNBC:
— —
>> Follow Andrew Kirell (@AndrewKirell) on Twitter
Have a tip we should know? [email protected]