Too Close To The Bears: Environmentalist Calls Sarah Palin's Encounter 'A Travesty'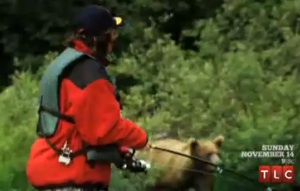 Last night saw the premier of Sarah Palin's new reality show on TLC, Sarah Palin's Alaska and within hours of airing, there already appears a brewing controversy over a scene in which the former Alaska governor was filmed fishing too close to protected bears. The Guardian reports that John Toppenberg, director of the Alaska Wildlife Alliance, claims that Palin "violated the guidelines,"calling her actions "a travesty".
The scene in question comes from a fishing trip in which Ms. Palin and members of her family go fishing and encounter a number of bears also looking for fish. At several points, the bears appear to move closer to Palin and her crew, and throughout the experience both Palin and the others are respectful of the wildlife that have revealed themselves.
However, that's not good enough for some. Writing for The Guardian, Leo Hickman and Joanna Walters report:
John Toppenberg, director of the Alaska Wildlife Alliance, said scenes in an online trailer for the programme appeared to show the former Republican vice-presidential candidate breaking the rules of Wolverine Creek, a famous spot where bears – and humans – come to fish. "It's clear from the video that she violated the guidelines," he said, calling her actions "a travesty".

Large brown bears gather in Wolverine Creek because the fishing is so easy and the animals have, in the process, become a tourist spectacle. But Toppenberg warned that by behaving in an apparently irreverent manner, Palin was doing nothing to foster responsibility among visitors. "She is encouraging the violation of important guidelines that allows tourism to flourish in Alaska. She is inviting future problems with the tourism industry and, in particular, the bear-viewing industry," he said.
The early reaction to the minor controversy appears to be a backlash to Toppenberg's critique – most of the pick up of this story thus far has ironically come from right-of-center websites, perhaps mocking the news surrounding the minor infraction.
There is fair amount to unpack and discuss in Sarah Palin's Alaska, and while some may have come away from viewing the show thinking it was a remarkably hackneyed and contrived program, such is quality of most reality programs. This is not a documentary (in which producers and directors try their best to stay out of the way of events captured by cameras), rather by definition a "reality show" is created by the interaction of directors and productions staff. (Disclosure – I produced and directed both candid and competitive reality shows for both Bravo and ABC.)
(H/T TheBlaze)
Have a tip we should know? tips@mediaite.com