Too Far: MSNBC's Ed Schultz Calls Laura Ingraham A 'Right-Wing Slut' (UPDATE)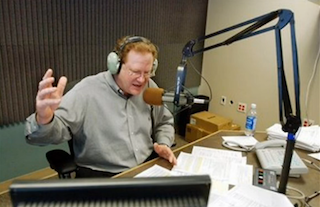 Yeah. Apparently Ed Schultz has forgotten that he's not on Saturday Night Live. And that it isn't 1978. Yesterday on his radio show, Schultz decided to call Laura Ingraham a "right-wing slut." Now, before you get all up in arms, Schultz did clarify his statement. He followed it by calling her a "talk slut." That's better, right? No.
UPDATE: Ingraham has responded. See below.
Here's his comments:
"And what do the Republicans thinking about? They're not thinking about their next-door neighbor. They're just thinking about how much this is going to cost. President Obama is going to be visiting Joplin, Mo., on Sunday but you know what they're talking about, like this right-wing slut, what's her name?, Laura Ingraham? Yeah, she's a talk slut. You see, she was, back in the day, praising President Reagan when he was drinking a beer overseas. But now that Obama's doing it, they're working him over."
Schultz was discussing Ingraham's comments about President Obama's trip to Europe and…you know what? The backstory really doesn't matter here. What was he thinking? I can't think of any possible situation where it would be ok for him to call a woman a slut. I don't know. Maybe if Ingraham herself had walked into the studio wearing a shirt with the words "Hey, please call me a slut" written in big letters. Even then it would be a bad idea.
Look, if you don't agree with something the woman says, you can feel free to call her an "idiot" or a "jerk" or a "big, stupid poop-face." Whatever you want. Just don't call her a slut, you big, stupid poop-face!
For the billionth time, when insulting someone in the media, don't use a word that has negative connotations connected to their gender, race, religion, sexual orientation, of unchangeable physical features or handicaps. Why is this so damn difficult to understand? Ed, weren't you just yelling at Eric Bolling for saying the President drank "forties?"
UPDATE: Ingraham has posted a brief response on her Facebook page. Here it is in full:
"Re. the crude comments made about me by Ed Schultz on his radio program: First, I was surprised to learn that Ed Schultz actually hosted a radio show. Is it only available online? Second, I have to get back to recording the audio edition of my new book "Of Thee I Zing." Now I'm tempted to insert one additional zing–about men who preach civility but practice misogyny."
Watch the clip of Schultz's May 24th comments below:
(h/t Radio Equalizer via Michelle Malkin)
Have a tip we should know? tips@mediaite.com