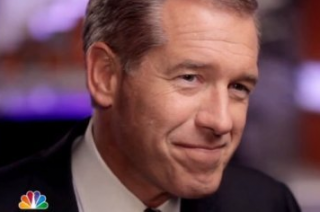 There has probably never been a major story about the news media which has been played out more overtly through leaks to the news media itself than the Brian Williams saga.
A couple of weeks ago, a series of high-profile leaks made it very obvious to this writer and others than Brian Williams was not going to be returning as the anchor of the NBC Nightly News. This weekend we effectively learned that it is now "official" that Williams will not be restored to that position because it was revealed that even his biggest supporter inside NBC, Andrew Lack, has apparently waved the white flag on this unwinnable battle.
Instead, it has been publicly dropped (and seemingly not denied) that Lack is still trying to find a role at NBC for Williams, but just not as the anchor of the Nightly News. He's reportedly even asking those who work for him to "think creatively" in order to find a way to keep Williams on the team.
This is concept is simply preposterous in every way.
There are very good reasons why throughout history kings have been assassinated rather than demoted. Once you have been the ruler of a kingdom and treated as if you can do no wrong (which, ironically, is a large part of how Williams got himself into this mess), it is simply not possible to go back to being a mere mortal.
NBA great Allen Iverson was once the centerpiece of the Philadelphia 76ers franchise. He was their sun and moon. But once he could no longer carry a team as its star, his career quickly disintegrated and fell to earth in a fireball of total dysfunctionality. The baggage he brought to any prospective employer was simply no longer worth what he could produce for them as a non-star attraction.
Brian Williams is in a remarkably similar situation.
NBC News would be bringing back a tremendous amount of negativity both in public perception as well as in the realm of company politics. And since he wouldn't be in a "starring" role, it's very difficult to see how that downside, or his huge salary, could possibly justify such a headache.
Even as desperate as Williams may be to hang on, it would seem doubtful that he would even want to engage in such an arrangement. He would effectively be like a farm's prized bull being forced to still graze with all of the same cattle after he has been very publicly castrated.
His massive ego alone would never allow that to work. Even if he gets fooled by NBC management into trusting them that they would make sure it all eventually worked out in his favor, it would only be a matter of time before the inevitable implosion. For instance, what happens the first time there is major breaking news and Williams gets to the studio before Lester Holt? Awkward.
More directly to the point, even if such an arrangement could theoretically work, what exactly could Williams viably do for NBC?
His talents are clearly best suited as a news anchor/reader and as an anchor of live breaking news. Now they are going to find something else for him to do which doesn't involve him going the things he's actually good at?!
There is no way they could send him back into the field to actual reporting. It is his penchant for making things up from his time spent on the scene that caused him to lose the anchor gig in the first place! This would be roughly the equivalent to Tom Brady being forced to be the Patriot's ball-boy because of a demotion due to "Deflategate."
He also can't host a news magazine show because he already tried that and it failed rather dramatically back when he wasn't yet a national punch line for comedians. And his real dream of hosting the Tonight Show clearly just isn't in the cards (will Jimmy Fallon even still let him "slow jam the news"?).
So, in an effort to help Lack out, and with apologies to the recently retired David Letterman, here are my "Top 10" suggestions for what Brian Williams might actually be qualified to safely do at NBC:
Host of a weekly history program called, I Was There.
The official ethics ombudsman for NBC News.
Weather anchor at the NBC-owned Weather Channel (the one job where people often get it completely wrong and no one seems to care).
Creator of NBC's new "Fairytale" division, intended to compete with ABC/Disney.
NBC Liaison to the Democratic Party (this transition would be, by far, the easiest).
Host of the "Beyond Last Call" really-late night talk show.
Head of casting for NBC's live musicals (since it seems he already has some experience in this realm).
Host of a show on fishing stories for NBC's sports channel called, The One that Got Away.
Panelist for NBC's America's Got Talent (since his credibility is still at least as strong as Howard Stern's).
Host of NBC-owned Golf Channel's new program, The Greatest Shot I Ever Saw, But for Which There Is No Video."
— —
>> John Ziegler is a documentary filmmaker and a nationally-syndicated radio talk show host. You can follow him on Twitter at @ZigManFreud.
Have a tip we should know? [email protected]