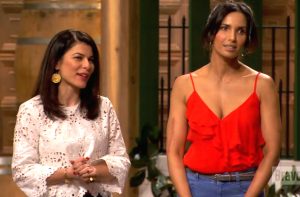 Well, things are tense on the Top Chef holiday special, just like they are during the actual holidays. Everyone is devastated that Sam is gone, not just because he's a great chef but also because he's a great person. Katsuji in particular doesn't understand how it wasn't BJ who was sent home. I'm torn because I like Sam much, much more than BJ, but BJ is on my fantasy team. Katsuji tells BJ how much he loves him quite a few times before saying, "Sam helped everybody. You didn't put in as much effort."
"F*ck you," BJ replies. Katsuji is shocked.
The next day, everyone is waking up and John, BJ and Jamie are sitting outside. John, who does not seem to like Katsuji at all says, "I love Katsuji, but let's face it, he's a pot stirrer like I've never seen before… he gets a hall pass for being an asshole." BJ says he's "not going to let him get under his skin," though it appears he already has.
At the Quickfire Challenge, Padma introduces Nilou Motamed, the new editor-in-chief of Food and Wine Magazine. Padma says that Nilou has brought each of them a great gift. The gift is a Quickfire challenge. The chefs each have boxes in front of them. The chefs have to create a dish using everything in their gift boxes. "And I do mean everything," says Padma, in case the chefs didn't understand what she said four seconds prior.
In the box is a pressure cooker, Patrón tequila, pomegranate, chocolate pretzels, cloves, wasabi, squab, and a melon baller. Jim hasn't used a melon baller in a while. Sylva is amped. Jamie says that pretzels are "gross." BJ and Sheldon both note that the ingredients don't all really go together, which I'm fairly certain is the point. Emily has never used a pressure cooker before, ever, which is pretty weird because my cooking generally means putting frozen vegetables from Trader Joe's into a pan on my stove, and I've used one. Katsuji is drinking a fair amount.
Shirley is burning her squab, but the pink and purple flames are very pretty. Emily is blending cabbage and rice, and observes, probably correctly, that it's "the most disgusting dish [she's] ever made in her life." Shelton has accidentally stolen Shirley's melon baller. Katsuji is still drinking tequila straight from the bottle.
Everyone kind of sucks at this challenge. The only time they seem at all enthused is when they're eating Casey's soup. There must, however, be winners and losers. Nilou decides she's going to go with the naughty ones first. Her three least favorite dishes were Shirley, Emily, and BJ. The best three were Brooke, Casey and John. Casey wins the challenge and is granted immunity.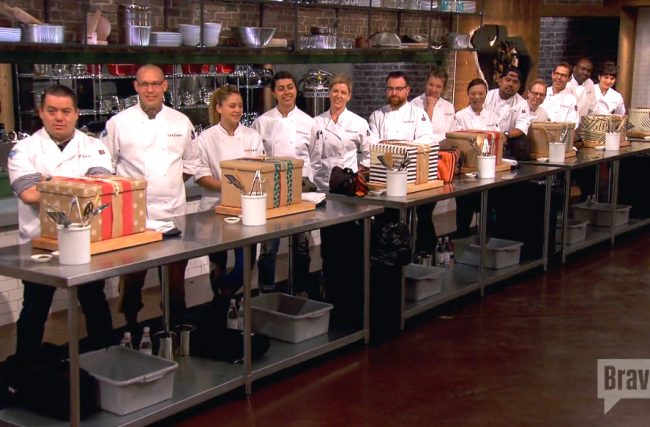 Mike Lata is the guest judge for the elimination challenge. Also, Emily used to work for him and he fired her. Oof. "I'm 100% terrified," she says. I am terrified for her.
The chefs are going to make the feast of the seven fishes- but there's a catch (no pun intended). All of the fish are "trash fish," which are called that because they usually get thrown away. Jim, being incredibly politically correct does not like that they are called trash fish (take that, Donald Trump). The chefs will be working in teams of two except for Casey, because she has immunity. She also gets to pick her fish first. She chooses Amberjack because she's heard of it. The chefs draw knives to find out what they are cooking and with whom, and it definitely seems rigged. Shirley is working with Sheldon, who stole her stuff during the Quickfire. John is working with Katsuji, and the two pretty much vocally hate each other. Jim is with Amanda, Jamie is with Sylva, BJ is with Silvia, and Brooke, who is consistently in the top three is with Emily, consistently on the bottom. Brooke is coming up with ideas and Emily likes all of them.
Shirley is over the whole Quickfire sabotage thing and is ready to give her dish a family feel with Sheldon. Amanda is very excited about working with Jim. Jim hopes to be a "calming factor" for Amanda. Katsuji and John can't agree on whether to use canned or fresh tomatoes. At the house, Emily explains she got fired for being a "bossy pants." Everyone seems to agree that she needs to "blast him with awesomeness" during the challenge.
It's game day. Everyone is sharing what they do for the holidays. Sylva is awesome, and I'm glad he's on my fantasy team. Obviously, some partnerships are going better than others. Shirley and Sheldon are working well together. Emily is leaving everything up to Brooke. John and Katsuji are competing with each other to see who makes the best stewed tomatoes.
The whole Top Chef family is in town for dinner tonight, and Sheldon and Shirley, now BFFAEAEAEAEAE are up first. They made  Sichuan-peppercorn-braised mullet with tofu, celery, and buttered radish. Unfortunately, you can't debone mullet, and that sucks, but the dish is still good. Jamie and Sylva are up next with their tunny, which looks like tuna, but isn't. They've made a ras-al-hanout dusted tunny with leeks, wild mushroom ragout, and XO jus. Also good, which the judges were not expecting. All things must come to an end, and for the excellent streak the chefs were on, that time is now. Brooke and Emily's dish is pretty much a disaster. They've made blackbelly rose, a fish I have definitely never heard of, with marble potatoes, leeks, fresh corn, fiddlehead ferns, coconut, and tamarind sauce. Mike Lata wanted a different technique. Nilou thinks the dish has a split personality. The judges ask who did what, and all Brooke and Emily will say is that it's collaborative. Way to be good teammates, guys.
Next up are Silvia and BJ, whose fish is chewy, which they know even before they serve it. They have also run out of broth.  They've made barrelfish with brodo with leeks, kale, cauliflower, and pane carasau. It's not good at all- it's flavorless. Amanda and Jim are up next. Amanda has been "spinning like a top," as Casey correctly put it, and has worked herself into a sweat. Jim was totally calm, but he's worried about Amanda's beans. They've made tilefish with tomato and fennel brother broth with mussels, white beans, and fennel salad. Tom wants to know who cooked the beans, which Amanda is panicked by. Nilou says everything on the plate feels either overdone or underdone. Mike Lata says that one of his biggest pet peeves is undercooked beans, and unfortunately for Amanda, that's what she has served him. Casey is lucky she has immunity. She hates her dish, and the judges are in agreement. She serves amberjack with kimchi, charred rabe and rice porridge. The fish is raw, the porridge is bad.
Judgment time. The best dishes were Sheldon and Shirley, Jamie and Sylva, and John and Katsuji. Their favorite dish was John and Katsuji's. Katsuji wins the challenge because, as Graham Elliot puts it, you could have put his sauce "over a pair of boots, and it would have been delicious." Disagree, but I get his point.
Casey probably would have lost had she not had immunity, but they can't send her home so they have to pick someone else.
Eliminated: BJ
[images via screen grab]
Have a tip we should know? tips@mediaite.com