Top Liberal Radio and TV Host Thom Hartmann Doesn't Think Conservatives Are Evil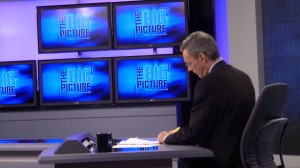 Although conservatives like Rush Limbaugh currently dominate talk radio, there are a few liberals, like Bill Press, and Ed Schultz, who have managed to break that stranglehold and maintain a beachhead in the format. Perhaps the best kept secret in progressive talk radio, though, is that Thom Hartmann sits atop the pack, and he does it with a minimum of the antagonism that is de rigeur in today's political media. With a recent move to Washington, DC, and a move into television, is Hartmann poised to break out?
Hartmann is well-known among progressives, mainly due to his stint on Air America Radio, but even many of them might be unaware of Hartmann's impressive reach. His radio show, The Thom Hartmann Program, is syndicated by Dial Global (who also syndicate Bill Press and Ed Schultz, among others), and has placed him as the top liberal host in Talkers Magazine's Heavy 100 three years in a row.
His radio show is also simulcast for television on Free Speech TV.
Hartmann also produces and hosts The Big Picture with Thom Hartmann, an hourlong TV show that's available in over 55 million households (about 80% of the number Keith Olbermann boasts for Current) via the RT America network and FSTV.
The talent required to host a 3 hour radio show doesn't always translate to TV (just ask Rush Limbaugh), but Hatmann's hour is a refreshing mix of interviews, commentary, and panel discussion. Unlike some liberal TV personalities, Hartmann welcomes conservatives to his show, and while the repartee is sharp, it is also respectful and fun.
Hartmann's attitude toward conservatives stems not only from a cool temperament, but from his relationship with his late father, a lifelong conservative. As an adolescent, Thom campaigned with his dad for Barry Goldwater, but even as their worldviews diverged, their mutual affection remained. Hartmann is no liberal "squish," though. His views are not triangulated to make nice with the other side, which makes his ability to get along with them that much more remarkable.
With the recent move from Portland to Washington, DC, and into television, Hartmann is poised to make a greater impact on the liberal media, and the larger political media as well. For the moment, though, he's happy in his own skin, and with the independence of owning his own shows. He's already established, and retired from, several careers (including best-selling author), so even if Hartmann doesn't feel driven to take over the town, his cool brand of commentary is something it needs more of.
In an exclusive interview with Mediaite, Hartmann talks about the liberal media landscape, Fox News, the recent intramural feud over the killing of Osama bin Laden, and his own future.
Have a tip we should know? tips@mediaite.com