Top Physicians Demand Columbia Univ. Fire Dr. Oz: 'Egregious Lack of Integrity'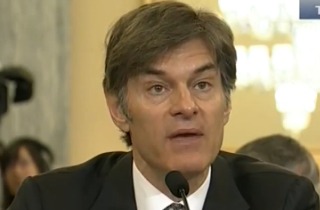 A group of the nation's top physicians sent a stinging letter to the dean of Columbia University's medical school, demanding that they remove TV doctor Dr. Mehmet Oz, who sometimes plays a renowned cardiothoracic surgeon in real life, from the school's faculty.
"We are surprised and dismayed that Columbia University's College of Physicians and Surgeons would permit Dr. Mehmet Oz to occupy a faculty appointment, let alone a senior administrative position in the Department of Surgery," the letter, obtained by CBS News, reads.
Dr. Henry I. Miller, a physician at of the Hoover Institution at Stanford University and the letter's author, went on to bash Oz's propensity to hawk cures that are so bad, they earned him some lawsuits and a Congressional rebuke:
"As described here and here, as well as in other publications, Dr. Oz has repeatedly shown disdain for science and for evidence-based medicine, as well as baseless and relentless opposition to the genetic engineering of food crops. Worst of all, he has manifested an egregious lack of integrity by promoting quack treatments and cures in the interest of personal financial gain.

"Thus, Dr. Oz is guilty of either outrageous conflicts of interest or flawed judgements about what constitutes appropriate medical treatments, or both. Whatever the nature of his pathology, members of the public are being misled and endangered, which makes Dr. Oz's presence on the faculty of a prestigious medical institution unacceptable."
Dr. Oz, who is the vice-chair at Columbia's Department of Surgery, was introduced to American audiences on The Oprah Winfrey Show and eventually became famous enough to warrant his own daytime show, as well as a magazine and a small cottage industry promoting alternative medicine.
After a Senate hearing in which he was slammed for promoting supplements that were found to be patently misleading, Dr. Oz seemed contrite. " I took part in the hearing because I am accountable for my role in the proliferation of these scams and I recognize that my enthusiastic language has made the problem worse at times," he said on Facebook at the time. "To not have the conversation about supplements at all, however, would be a disservice to the viewer."
[CBS]
[Image via screenshot/CSPAN]
—
>> Follow Tina Nguyen (@Tina_Nguyen) on Twitter
Have a tip we should know? tips@mediaite.com