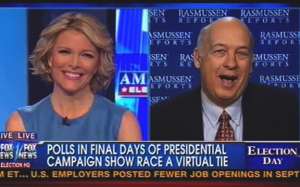 Scott Rasmussen, the founder and president of Rasmussen Reports, one of the biggest polling firms in the country, appeared on Fox News today to admit despite all the polling, he's unable to make a clear determination of who's going to win tonight. Megyn Kelly asked Rasmussen who he thinks will be the next president of the United States by tomorrow. Rasmussen answered, "I have no idea who's going to win tonight."
RELATED: Chuck Todd Calls Rasmussen Polls 'Slop,' Scott Rasmussen Responds
Rasmussen said he keeps looking at the numbers, and he can't conclude anything definitive since the race is too close to call. Kelly asked him if the polls that give Obama a slight advantage are not factoring in the political shift of the electorate since 2008. Rasmussen said the political makeup of the country (four years ago, it was D +7) is an important factor that may not be considered by some polls, but said it's not conclusive that the enthusiasm on the Republican side will translate into more voters.
But despite Rasmussen's uncertainty about the overall outcome, he used general trends to predict Obama will take just under 50 percent of the vote, meaning there will be a tight race ahead.
Kelly ended by asking Rasmussen the point of campaigns releasing internal polls that show their side with the advantage. Rasmussen said that most internal polls are good, but campaigns only release the ones that come out in their favor.
Watch the video below, courtesy of Fox News:
—–
Follow Josh Feldman on Twitter: @feldmaniac
Have a tip we should know? tips@mediaite.com
Josh Feldman - Senior Editor