Top Romney Strategist Stuart Stevens Says Media Not 'In The Tank' For President Obama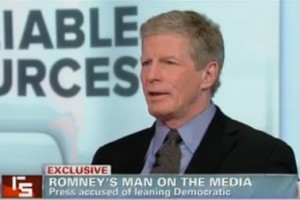 Ever since then-Senator Barack Obama first took a lead in the 2008 Democratic primary, the political news media has faced the accusation that they are "in the tank" for the now-second term President Obama. On Sunday morning's Reliable Sources, the press got a qualified defense from a surprising source: Mitt Romney chief strategist Stuart Stevens. Host Howard Kurtz asked Stevens if " much of the media is in the tank for Barack Obama," to which Stevens replied, "In the tank? I would say no."
"Do you believe, today, that much of the media is in the tank for Barack Obama?" Kurtz asked.
Stevens replied, "It's not a yes or a no question. In the tank, I would say no. So, yes or no question, I would say no."
Kurtz pressed the line of questioning several times. "Too sympathetic to the President? How would you put it?" he asked.
"I think after the election, you'll have a lot tougher questions that will be asked because you're out of an election environment," Stevens replied. "I think you're seeing that this past weekend with this whole golf outing. I think they will be more critical now."
A surprised Kurtz asked, "You're saying the press should be finally more critical about the fact that President Obama went golfing with Tiger Woods?"
"The degree to which there is not a choice between him and a Republican candidate makes it easier for them to be tougher on the President," Stevens replied. "That's natural."
Stevens took great pains to avoid bashing or blaming the media, but did allow that "there's every reason to believe that a majority of journalists tend to lean Democratic," and that while "that doesn't mean that you can't win an argument, I think it means that it makes it more difficult to carry the day in that argument."
"But this is sort of, I think, very old territory that we've been through," Stevens concluded.
In the closing weeks of the 2012 presidential campaign, Stuart Stevens was a convenient scapegoat for the Romney campaign, various factions of which leaked stories blaming Stevens for the campaign's woes. Perhaps that experience gives Stevens a wider perspective on the siege mentality that conservatives often feel with the mainstream media.
Here's the clip, from CNN's Reliable Sources:
Have a tip we should know? tips@mediaite.com