Toronto Mayor Rob Ford Apologizes for Drunkenness, Calls for Release of Crack-Smoking Video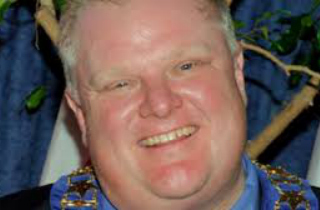 During his weekly radio address, Toronto Mayor Rob Ford apologized Sunday for past instances of public drunkenness and vowed to "make changes" to his life while remaining in political office. He did not directly address accusations of having smoked crack cocaine out of a glass pipe.
The mayor began his statement statement by calling on Toronto Police Chief Bill Blair to release the video that allegedly shows Ford smoking crack cocaine. Later on in the show, Ford told a caller he has "not seen" the video and therefore cannot comment on the nature of it.
"I want the police chief, Bill Blair, to release this video for every single person in the city to see," he said during the statement. "That is the right thing to do. Chief, I'm asking you to release this video now. Whatever this video shows, folks, Toronto residents deserve to see it and people need to judge for themselves what they see on this video."
While refusing to directly address the crack-smoking allegations, Ford did apologize for the "pure stupidity" of being "hammered" at the Taste of the Danforth street festival in August. He also admitted to being "a little out of control" on St. Patrick's Day in March 2012, when he claims he was "running around city hall with a half-empty bottle of brandy."
"I am the first one to admit, I am not perfect," he continued. "I have made mistakes. And all I can do right now is apologize for the mistakes. I sincerely, sincerely apologize to my family, to the citizens, the taxpayers of this great, and to my colleagues of the Toronto city council."
"I absolutely adore the people of this city," he later added. "I have to make changes in my life. Which I assure you that I will do. I love the work I do, and I want to keep doing it."
This statement flies in the face of mounting pressure for Ford to resign from his post. If this radio announcement is any indication, the mayor intends to stay in office and even run for re-election next year. We'll see how the alleged crack-smoking video affects those plans upon public release.
Listen below, via NewsTalk 1010:

[h/t Toronto Star]
— —
>> Follow Andrew Kirell (@AndrewKirell) on Twitter
Have a tip we should know? tips@mediaite.com