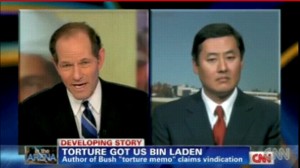 In a fiery interview on CNN's In the Arena, John Yoo, the Bush Administration deputy assistant attorney general who wrote the "torture memos" on enhanced interrogation, talked to Eliot Spitzer about his belief that Osama bin Laden should have been taken alive. "The best, most reliable information we can get is from interrogation and I'm worried that we have, this administration has closed off that flow of intelligence since President Obama took office," said Yoo.
Yoo, who wrote an op-ed for The Wall Street Journal on the American raid in Pakistan, clashed with Spitzer on whether he had "second guessed" the president and the American forces who carried out the raid:
SPITZER: You know, John, I just got to say I think it is remarkable that the person who wrote the legal opinion that rationalized torture, perhaps the most ridiculed legal opinion in many years that I'm aware of, is now second guessing the tactical decisions made by the president that has been the single most successful counterterrorism effort in the past decade. Your president, for whom you work, and I mean no disrespect to mean, did not succeed and doing what President Obama has just done. And you're now second guessing down to the number of Navy SEALs he sent in saying they should have done it a different way. I just don't know what possible credentials you have to second guess the number of Navy SEALs who should have gone in to Abbottabad to capture bin Laden.

YOO: Well, I don't know if you want to question my credentials and use me as a punching bag. This might be the last time I'm obviously going to be on your show, because you obviously don't think it's worthwhile to hear from me at all. But I do think that these are legitimate questions that a lot of people are raising in Washington. I think that the Obama administration had several options. I think it's bizarre that you would say that in our democracy that people shouldn't raise questions and ask whether something could have been done better. And I do think that this administration has put itself into a bit of a corner because they really don't want to capture Al Qaeda leaders. I mean, I think the record seems pretty clear on that.
Have a tip we should know? tips@mediaite.com