'Totally Ridiculous And Stupid': Reince Priebus Dismisses Fox's Link To NBC's Hillary Miniseries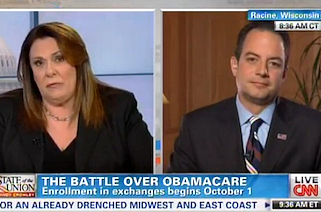 CNN's Candy Crowley chased RNC Chairman Reince Priebus on Sunday morning over whether the possible production work by Fox Television Studies for the NBC Hillary Clinton miniseries complicated his boycott of the latter company.
"Some researcher at CNN or NBC worked for a few days to find some little connection somewhere down the road to bring something into this debate," Priebus responded. "I think it's totally ridiculous and stupid."
"Our party has to quit availing our self to biased moderators and companies that put on television, you know, in this particular case documentaries and miniseries about a particular candidate that we all know is gearing up to run for president," Priebus said. "The big question for me is which company is putting it on the air? Who's doing the work? I'm not interested if they're using the same caterer, or whether they all drink Diet Coke. I'm not boycotting Diane Lane. I'm going to boycott the company that puts the miniseries and documentaries on the air for the American people to view."
RELATED: Candy Crowley: CNN's Clinton Movie 'Makes Life More Difficult'
Crowley pressed Priebus on the difference between boycotting the caterer and boycotting the actual production company making the film.
"I don't know the truth of anything you're talking about," Priebus said. "But I do know what's very clear is that the company that puts these things on the air to promote Hillary Clinton, including CNN, is the company that is not going to be involved in our debates."
Watch the full clip below, via CNN:
[h/t RS]
—
>> Follow Evan McMurry (@evanmcmurry) on Twitter
Have a tip we should know? tips@mediaite.com