Tough Crowd: The Cycle's Touré Points Out That Carnival Poo Cruise Was No 'Middle Passage'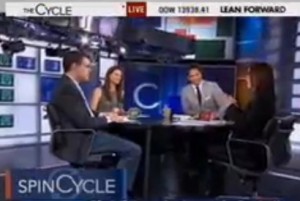 As the news media, particularly CNN, completely lost all sense of perspective about the Carnival Triumph's trip through the bowels of mild discomfort, the hosts of MCNBC's The Cycle found it, one-upping each other with travel horror stories that included S.E. Cupp's ride on an aerial vomitorium, Steve Kornacki's underage gambling career, and Krystal Ball's harrowing brush with forced dinner conversation. Then, Touré went there, pointing out that sleeping on the shuffleboard court, waiting in line for food and pooping in bags isn't exactly a nightmare cruise. "The Middle Passage, that was a nightmare cruise," he said.
I know it seems hypocritical to complain about the cable networks devoting too much time to the Carnival of Briefly Lost Souls, then write a second post on the subject, but the Cycleists nailed this story like a meth-addicted carpenter. S.E. talked about the worst airline flight ever survived, aboard a plane which amusingly had to circle Las Vegas for five hours just to waste gas. Bonus: some footage of S.E. giving one of thise "harried passenger" interviews in 2007.
But they also covered some territory that I skipped earlier, which is, namely, that cruises are stupid. As S.E. said, " Cruise ships take all the things I love about a boat and throw them out the window."
She and Krystal Ball also agreed that the people you'tr forcrd to share space with can be annoying, but it was Steve Kornacki who said it best. "They're doing everything possible to make you forget that you're on a boat," he said, "so what's the point of having a boat? It's just a hotel that might sink."
Yes! Exactly! And you don't see hotels where they make it go up and down when the weather's bad, or drown you if you walk too far off the grounds. Let a hotel be a hotel, and a boat be a boat. If you go to Sandals, you can go wherever you want, do whatever you want, and if you really feel the urge, you can always drown in the pool.
Then, Touré confessed that he has "a deep blood memory aversion to getting on a big boat. Maybe a little boat but not a big boat. They keep talking about nightmare cruise, I'm like, 'Hello, the Middle Passage, that was a nightmare cruise."
As pitiless as I am about the Carnival Triumph, that might be raising the bar to get on the news a little too high. You don't have to be on La Amistad to get on the news, but there should be something, maybe a visible fire, one or more pirates, Charo, perhaps?
After all of the hours cable news has wasted on the excruciatingly slow, mildly inconvenient journey of the Carnival Triumph, none of them has been able to answer the one question that might actually help the next cruise ship to suffer this fate: Why is it so impossible to take a dump on a boat without electricity?
Here's the segment, from MSNBC's The Cycle:
Follow Tommy Christopher (@TommyXtopher) on Twitter.
Have a tip we should know? tips@mediaite.com