Tour War: Eric Bolling Promotes Hashtag To Shame White House Into Reopening For Tourists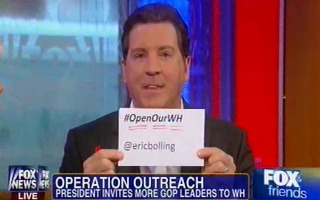 Eric Bolling is not happy with the White House's decision to suspend tours of the presidential residence as part of the implementation of the mandatory federal budget cuts in the sequester. He has offered to personally fund the tours but, having received no response from the White House, has now turned to shaming the members of President Barack Obama's administration. On Monday, Bolling took to Fox & Friends where he promoted a Twitter hash tag designed at pressuring the White House to reopen.

RELATED: Eric Bolling Doubles Down On Offer To Pay For WH Tours: Obama's 'Punishing' Kids With 'Political Game'
Bolling began the segment by claiming that the White House overplayed their strategy of claiming the mandatory budget cuts were going to be immediately painful. Now, he added, Obama is attempting to work directly with Republicans in order to mitigate some of the political damage he could suffer from excessively promoting the sequester.
"The bellyaching about the Republicans stopped working," Steve Doocy declared. "If his goal truly is, as was revealed in the pages of the Washington Post two weeks ago, to have Nancy Pelosi regain her Speaker hammer at the conclusion of next year, this is just a tactic."
"If it was all about sequester, then he would put the White House tours back on," Gretchen Carlson observed as a card appeared above her shoulder bearing the hashtag "#OpenOurWH" and Bolling's Twitter handle.
"I think we're going to get 'em open,' Bolling said of the currently stalled White House tours. "I think that, eventually, President Obama and Jay Carney have to listen to what the people are saying."
He noted that the hashtag had been "trending on and off" for the better part of a week already. "They're hurting the kids to make a cheap political stunt, and it's not fair," Bolling added.
After playing a clip of a guest explaining how closing the White House is an example of the notorious U.S. Parks Department's "Washington Monument Strategy," Bolling listed a handful of examples that showed the government was actively pursuing a strategy designed to ensure sequester cuts would be the most visible to the public.
"The White House has jumped the shark," Bolling said.
"Inflicting pain for maximum political gain," Doocy agreed.
Watch the clip below via Fox News Channel:
> >Follow Noah Rothman (@NoahCRothman) on Twitter
Have a tip we should know? tips@mediaite.com