Touré And MSNBC Contributor Jimmy Williams In Heated Fight Over Morality Of Torture In War On Terror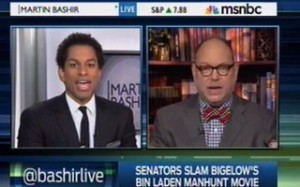 In a segment on MSNBC with Martin Bashir reviewing the film Zero Dark Thirty, network host Touré and MSNBC contributor Jimmy Williams got into a heated exchange over the efficacy and morality of torture tactics in the war on terror.
Touré claimed that "detective work" and "treating people with respect" were the most effective tools that led to the killing of Osama bin Laden in May of 2011. He said that "beating the crap out of people," while it "feels good," is not an effective tool for tracking down terrorists.
"Pragmatically, it did not work. It did not produce information, and it did not make us safer," Touré said of torture tactics.
Williams did not agree. "Do I like torture? No," Williams said. He chastised members of Congress who are coming out against the torture tactics depicted in this movie, saying that it is obvious that a film would dramatize moments for effect.
Touré insisted that torture, and drone warfare, are not making America safer. Nor, he said, do those tactics provide defense officials with actionable intelligence. "It wrecks the soul of America," Touré said.
"At the end of the day, we are at war with people who killed 3,000 people on 9/11," Williams said animatedly. "I don't give a damn how our American government keeps us safer. I just want them to do it and I don't want to know about it. And, by the way, I think I'm in the majority of the American people."
"But do you want to be safer, or do you want to feel good beating people up," Touré replied.
"I don't want to know what the American CIA is doing," Williams replied. "I just want to be safer."
Touré insisted that torture does not make Americans safer. "How do you know what makes us safer," Williams asked.
Watch the fight below via MSNBC:
> >Follow Noah Rothman (@Noah_C_Rothman) on Twitter
Have a tip we should know? tips@mediaite.com