Touré Argues with Israeli Security Expert Over 'Illusion of Security' Provided by Profiling Techniques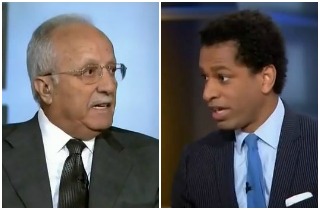 In the wake of a deadly shooting incident at Los Angeles' LAX, Isaac Yeffet, a security expert for Israel's El Al Airlines, sat down with the hosts of The Cycle to discuss what kinds of measures the United States should adopt in order to prevent future attacks like this. Yeffet appeared to shock MSNBC host Touré when he said that the U.S. should adopt more, not less, profiling. Touré said this was probably easier in Israel than in a "multi-racial country" like America.

"We don't have security," Yeffet said after identifying a number of reasons why the Transportation Safety Administration should have but was not prepared for this incident. "We live with the illusion that we have security. We have to stop relying on God and on luck."
"We can train people to be able to identify suspicious people that are coming to the terminal from the sidewalk into the terminal and everywhere they want to move," he added.
"So, a little bit like profiling," Touré clarified. "In Israel that might be easier than in a multi-racial country like America."
RELATED: WATCH LIVE: Terminal 3 Evacuated After Shooting Incident Reported at LAX Airport
"What's the difference between Ben Gurion Airport in Tel Aviv or any terminal – airport – in this country?" Yeffet countered. "Don't be nice. We are dealing with life."
"And look what happened now?" He continued. "Everyone is talking so nice. The bottom line, why we couldn't prevent it? Only because it's a free country and anyone can do whatever he wants? September 11th was not enough for us to learn how 19 terrorists, five terrorists in each security checkpoint and nobody stopped them with the knives?"
"I'm not sure how we get to the reforms that you're suggesting without removing a certain amount of civil liberties for people who don't look a certain way," Touré insisted. "Which is not actual security. That is the illusion of security."
Touré asked if Yeffet was really recommending for more profiling as a security measure. Yeffet said that was exactly what he was recommending.
Watch the clip below via MSNBC:
[Photo via screen grab ]
— —
> >Follow Noah Rothman (@NoahCRothman) on Twitter
Have a tip we should know? tips@mediaite.com