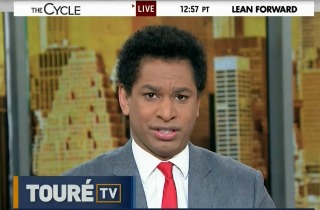 Contrary to his fellow host of The Cycle, Krystal Ball, MSNBC host Touré backed former Secretary of State Hillary Clinton to run for the presidency in 2016 over freshman Sen. Elizabeth Warren (D-MA). Touré said that Clinton has the requisite experience to be president and is more "electable" than Warren. Furthermore, he added, imposing a purity test on candidates is how the Democrats lost the presidential elections of the 1980s and why the Republican Party has recently been unable to recapture the upper chamber of Congress.

"I remember when Dems nominated true liberals and the smartest guys in the party, and the resulting years of losses," Touré said. "So, I'm not ashamed to say I'm willing to sacrifice some of what I believe in as a liberal to get behind a moderate Dem who's electable, and you should be, too."
"The party should not be willing to risk a national election to see if the nation is ready for a liberal president," he continued. "Something they haven't even asked since [Walter] Mondale got crushed.
RELATED: 'Don't Run': MSNBC's Krystal Ball Urges 'Anti-Union' Hillary to Pass on 2016
Touré called Warren an "inexperienced candidate who fits neatly into the classic caricature of Dems as effete latte-sipping, Volvo-driving, Ivy Leaguers"
"Demanding ideological purity out of your presidential candidate is the path to defeat," he added. He went on to say that Warren's liberal credibility comes from her relative inexperience and her having not yet had to compromise with her moderate Democrat and Republican colleagues.
"I hope Warren continues to stand down so that the most electable Democrat we've had in decades can win," Touré concluded. "Dems have got to worry more about pragmatism than political purity."
Watch the clip below via MSNBC:
[Photo via screen grab ]
— —
> >Follow Noah Rothman (@NoahCRothman) on Twitter
Have a tip we should know? tips@mediaite.com