Touré Battles Legal Expert Over George Zimmerman's Racism: 'Some Of That Is Inference'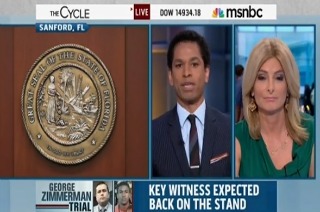 During a segment on MSNBC's The Cycle on Wednesday, host Touré and legal analyst Lisa Bloom engaged in a tense exchange. Touré interrupted Bloom after she failed to attribute racial motives to the language George Zimmerman used when assessing the threat he thought Trayvon Martin posed before shooting him. Bloom accused Touré of drawing inferences from Zimmerman's statements and ascribing motives to him that cannot be gleaned just from the recorded phone calls alone.

Bloom was asked to react to testimony given by a friend of Trayvon Martin's who said that the late Florida teen had referred to Zimmerman as a "crazy ass cracker" moments before he was shot. Reporter Luke Russert noted that this is the only confirmed instance where a racial epithet was used before Martin was shot.
Bloom noted that Zimmerman used profane language when describing Martin to a 911 dispatcher and later with police. She did, however, note that the language Zimmerman used was not "racially insensitive."
"Whoa," Touré interrupted. "There was a trifecta of stereotypes used against Trayvon Martin in the initial phone call, so let's not go too far there."
"What are you referring to?" Bloom asked.
Touré said that Zimmerman saying "they always get away" and believing that Martin was carrying a gun suggests that the accused assailant was buying into racial stereotypes. Touré said that Zimmerman was "criminalizing black men" in those comments and fueled the perception that this was a "radicalized situation."
"First of all, some of what you said is not what George Zimmerman said on that recorded phone call," Bloom said. "Some of that is inferences that we're drawing."
Watch the clip below via MSNBC:
> >Follow Noah Rothman (@NoahCRothman) on Twitter
Have a tip we should know? tips@mediaite.com