Touré: Ben Carson Is The GOP's 'Black Friend,' Enjoying GOP's 'Affirmative Action' And 'Assuaging Their Guilt'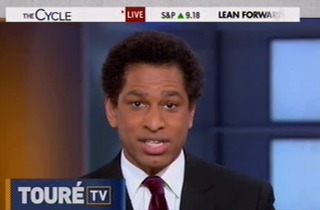 MSNBC host Touré criticized the speed with which the Republican Party's opinion leaders have embraced Dr. Ben Carson on Friday, saying that the pediatric neurosurgeon is the equivalent of the GOP's "black friend." Touré said that Republicans are displaying a form of cynicism in their acceptance of Carson as a means of assuaging their guilt over their pas "abusive" relationship with minorities.

RELATED: Conservative Rockstar Ben Carson Excites CPAC Crowd With 2016 Talk
"Just so we're clear, I'm not really into being the 'black friend,'" Touré began. "If I get that sense that you like me just because I'm black and you're, sort of, exocitcizing that, then your emails stop getting returned."
"But the demand for black friends continues, because some people need them to make themselves feel not racist. Take the Republican Party," Touré continued.
The MSNBC host cited the Republican National Committee's report on the circumstances which led to their losses during the 2012 election cycle. In the report, the RNC advised the GOP to build inroads and relationships with African-Americans.
"I don't feel cared about by the GOP at all," Touré added. "People who respect and care about me don't try to suppress my vote."
He said that this, among other issues, is the logical reasoning behind the African-American community's antipathy towards the Republican Party. "Such is the dysfunctional, abusive relationship the GOP has with black folk," Touré said. "They say they want a new relationship while continuing to try to screw us over."
Touré said that Carson has been embraced so quickly by the GOP because he is helpful for "assuaging their guilt."
"Carson is a brilliant medical thinker, but he's got intellectual tumors in his mind like a flat tax – which is regressive and ignorant in the face of American wealth inequality where the top 1 percent own 35 percent, and the bottom 60 percent own 2.3 percent," Touré opined. "I doubt Jesus would tax them equally, just as I doubt the GOP would entertain a white, non-politician with unserious ideas."
Touré noted that Carson is the beneficiary of a form of "affirmative action" within the Republican Party which elevates minority voices beyond or in spite of their qualifications.
Watch the clip below via MSNBC:
> >Follow Noah Rothman (@NoahCRothman) on Twitter
Have a tip we should know? tips@mediaite.com