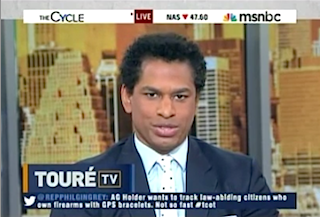 What's the difference between Archie Bunker and Stephen Colbert? That's a question MSNBC's Touré attempted to answer during the final segment of The Cycle Monday. Following the controversy over a tweet from The Colbert Report's Twitter account that was seen by racist as some and prompted a #CancelColbert campaign, the host argued that America needs faux-racists like Colbert, and All in the Family's Bunker before him, to draw attention to just how "absurd" actual racism really is.
After playing a clip from the classic 1970s sitcom, Touré compared the "somehow likable though bigoted" Bunker to the "much more erudite, smug, upper-classy ignoramus." While Colbert's satire is "more obvious" than that of All in the Family, he explained that "racism is so toxic that even parodying it can lead to outrage questions like: 'Is he attacking racism or being racist?' And 'Should racial satire even be used to attack racism?'"
RELATED: Did Stephen Colbert Bow to Pressure by Deleting @ColbertReport?
Touré said that facts alone can't always change racists' minds and that sometimes they need to "be shown how absurd racism looks and realize society is laughing at racists." By "performing racism," he said, Colbert and others are showing "the racists as buffoons to be laughed at in order to reveal the absurdity of racism"
Criticism of Colbert by people of color is, according to Touré, often "rooted in the distrust of white performers who are doing anti-racist work and a lack of understanding that the effort to dismantle the racial hierarchy must take on many forms."
"If we cannot accept white people as allies to dismantle the racist hierarchy," he concluded, "we have no chance to destroy it."
Watch video below, via MSNBC:
[photo via screengrab]
— —
>> Follow Matt Wilstein (@TheMattWilstein) on Twitter
Have a tip we should know? tips@mediaite.com