Touré Discusses How Our Culture Very Publicly Birthed A Book Like Go The F*** To Sleep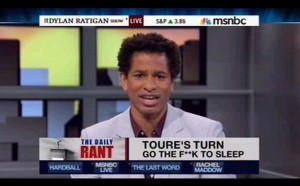 Writer and cultural critic Touré is, fun fact, also a dad, and he took some time away from desperately trying to get his two young children to go to bed to discuss a new book that's making waves among sleep-deprived parents and disaffected youth alike: Adam Mansbach's Go The Fuck To Sleep.
He noted that the book expertly expresses how, as a parent, you often "love your kid, but you hate your life" because rearing kids is so often a taxing, thankless job that offers little to no indication of how you're faring until your child grows up to become, I don't know. Anthony Weiner, maybe:
Many sociological studies have shown that parents are less happy than childless couples, which comes as a shock because we thought our kids would be little bundles of joy and then you find yourself sleep-deprived with poop on your hands and pee in your hair and you're certain you've mess them up, they'll never get into Harvard, and you've choked at the most important job you'll ever have.
Touré also discusses how the book can be seen as part of what he calls the "Oprah-ization of America," which sees people being open about the realities of life, parenting and episiotomies to the point of, say, uploading various photos of themselves giving birth in a giant tub onto the internet. (True thing I saw that cannot be unseen, on a website ostensibly about fashion.)
Watch Touré's segment, via MSNBC:
Have a tip we should know? tips@mediaite.com