Touré 'Doesn't Believe For A Second' That Rep. Eric Cantor Listens To Rapper Young Jeezy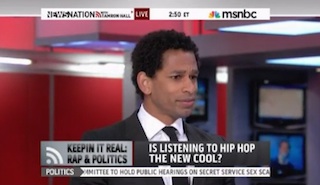 In a previous generation, politicians tried to attract young people by pledging their appreciation for rock musicians to consistently amusing results. And so, just two short decades after politicians like Dan Quayle were assuring parents that rap albums were going to crawl out of their kids' walk-men and force them to smoke the weed, the President and top Republicans are claiming their great love for hip hop. However, Touré appeared on MSNBC today to say that he's not entirely believing the claims of all politicians.
On the believable side, Touré was willing to accept Sen. Marco Rubio's assertion that he likes Nicki Minaj. Why does this past muster? Well, as Touré points out, Rubio looked pretty embarrassed when he talked about enjoying the pop singer in a recent interview. That certainly makes sense.
However, when Rep. Eric Cantor claimed he liked to jam to Young Jeezy and Wiz Khalifa? Not so much.
"I don't believe for a second that Eric Cantor is really digging Wiz Khalifa and the snowman Young Jeezy whose all about cocaine rap!"
To be fair, MSNBC's Tamron Hall defended Jeezy as not just rapping about cocaine. She wasn't ready to give as full-throated a defense to Cantor's gangsta claims.
Speaking of gangstas, the Republican Party hasn't fully embraced rap, especially when the conversation is about a President Obama liking it. Touré and Hall again brought up the absolutely nonsensical laugh-riot that was the attempt to smear the rapper Common when he dared to get invited to the White House.
Whether you think politicians like rap or not, you can watch the segment from MSNBC below. And after that, feel free to get down with Mr. Cantor's favorite, Young Jeezy.
Have a tip we should know? tips@mediaite.com