Touré Goes Off On 'Illegal Immigrant' Term: 'Trojan Horse' Masking 'Fear Of Inevitable Browning Of America'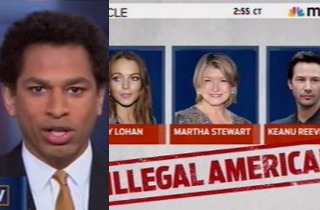 Touré, co-host of MSNBC's The Cycle, spoke out in support of the Associated Press' recent decision to cease using the term "illegal immigrant" to describe a person. He said that the phrase was loaded and contained inflammatory connotations that should be discarded in the way that saying "negro" to describe an African-American is no longer considered acceptable. Touré called the term "illegal immigrant" a "Trojan Horse," which exacerbates the "fear of the inevitable browning of America."

RELATED: Geraldo Demands To O'Reilly: No More Saying 'Illegal Alien,' Because It's Like Saying 'Negro'
Touré opened his monologue by noting that "illegal Americans" could include figures like Keanu Reeves, Lindsay Lohan, and Martha Stewart.
"We don't define people as illegal," Touré said. "We don't classify people's entire being based on one action. We don't, unless they come to America or stay in America in violation of America's immigration codes."
He said that the phrase itself defines people, and not their actions, as being "illegal." He praised the AP and a variety of other news organizations for banning the phrase.
"Language matters," Touré said. "Illegal immigrant is like a Trojan Horse filled with thugs."
He said that the media has a responsibility not to indict people who may have come to this country illegally or overstayed a visa. Furthermore, illegal immigration is not even violation of the criminal code, Touré said. It is defined as a civil infraction.
"The phrase is inaccurate, leading, and loaded," Touré continued, "purposely planting visions of unwanted people flouting laws and being a plague upon this country, instead of unlucky people who come looking for work willing to do jobs most Americans are uninterested in doing."
"Wrapped up in 'illegal immigrant' is a fear of the inevitable browning of America," Touré concluded. "'Undocumented' works towards a reasonable, productive discussion about that future."
Watch the clip below via MSNBC:
> >Follow Noah Rothman (@NoahCRothman) on Twitter
Have a tip we should know? tips@mediaite.com