Touré, Goldie Taylor: Tim Scott Missed MLK Rally Because Backers 'Would Not Have Allowed It'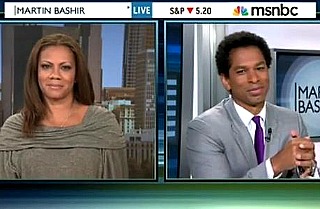 On Friday, the panel guests on MSNBC's Martin Bashir, guest hosted by Joy-Ann Reid on Friday, savaged Sen. Tim Scott (R-SC) who claimed he did not receive an invitation to the Martin Luther King Jr. "I Have A Dream" speech anniversary celebration but whose office did receive an invitation in early August and declined to attend. MSNBC contributor Goldie Taylor and host Touré insisted that Scott could not be seen at an event like the MLK rally because "his constituency" would have punished him for attending that event.

Co-host of The Cycle, Touré, began the segment by noting that Scott was invited in spite of some claims to the contrary, though he was not asked to speak at the rally. "His principles exist at loggerheads with everything they're trying to do at the march," he said, explaining the decision not to invite the nation's only African-American senator to speak.
RELATED: Senator Tim Scott Turned Down Invitation to 50th Anniversary of MLK Event
"His people don't want him here," Touré added. "And this party has been working for five decades on the 'Southern Strategy,' stoking white racial anxiety, saying 'we don't want to have anything to do with these folks. These folks are the problem.'"
"Obviously, Tim Scott should be invited and was invited to sit there," the MSNBC host continued. "If I am Tim Scott, I'm pushing myself on that podium in any way, shape, or form because this just perpetuates this idea they are racist and they don't care what black people want and that's not who they are interested in."
Reid said that Scott was in an unwinnable position because he would have to either pander to the crowd of people who don't support him or articulate his conservative principles which are "anathema" to the assembled MLK supporters.
"Tim Scott could not possibly have come to the march on Washington," Taylor said. "His constituency, frankly, just simply would not have allowed it."
Taylor said that the late Jack Kemp would have not let anyone keep him away from the MLK rally. She said that the GOP has missed a number of opportunities to reach out to the black community and has missed nearly every one.
Watch the clip below via MSNBC:
—
> >Follow Noah Rothman (@NoahCRothman) on Twitter
Have a tip we should know? tips@mediaite.com