Touré: If You Support Paula Deen, You're Saying 'Racism Doesn't Matter To Me'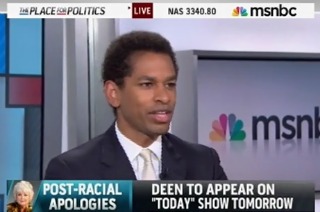 MSNBC's Touré dug into the controversy surrounding former Food Network host Paula Deen's admission during court deposition that she had used racial slurs in the past and the fact of this admission resulting in her dismissal by her employer. Touré said that Deen has become a symbol of a racist ideology and people who continue to support her brand are admitting that they are indifferent towards racism.

"How do you think she can redeem herself tomorrow?" MSNBC anchor Thomas Roberts asked ahead of Deen's scheduled interview on NBC's Today show.
Touré said that Deen's story links to the news of the Supreme Court's decision to strike portions of the 1965 Voting Rights Act and the trial of George Zimmerman for the murder of Trayvon Martin.
"These sorts of ideas we fear exist in the world still impact us," Touré said. "And when we see somebody come out and say, 'Yes, these are things that I still believe in, that I still hold dear.'
RELATED: Paula Deen's Son Reveals Mom Gave Him Hank Aaron Pajamas
"This dream of a Southern wedding – this traditional, Southern wedding – this is not stuff that makes Don Imus look bad, this is Trent Lott stuff," Touré added.
"She's is not an elected official, this is a lady that cooks butter sandwiches on the Food Network," Roberts countered.
"Right, but she's a representative now of an ideology that we thought was dead, that we hoped was dead, that some of us feared still existed in some people," Touré disagreed. "Now she becomes a symbol. Whereas, if you continue to support the restaurants and the empire, then you are saying 'Racism does not matter to me.'"
Watch the clip below via MSNBC:
> >Follow Noah Rothman (@NoahCRothman) on Twitter
Have a tip we should know? tips@mediaite.com