Touré Investigates 'Workplace Violence' Angle For Navy Yard Shooter… Who Didn't Work There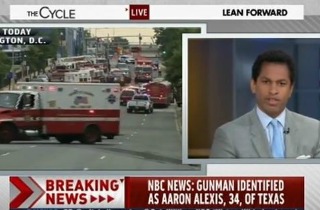 MSNBC host Touré spoke to a psychologist on Monday and asked him to spell out some of the behavioral signs that may indicate a coworker was planning on engaging in "workplace violence," similar to what he indicated had occurred at the Washington Navy Yard on Monday morning. Except for the minor detail that shooting suspect Aaron Alexis did not work at the Navy Yard and used the identification of a former employee to illegally access the secure military site.

"We don't know what the motive here is at all, no idea if we'll find that out ever, but there are some — it does seem somewhat consistent with some of the things we've seen before in terms of workplace violence," Touré began. "Let's talk about workplace violence in general. What are the commonalties that you tend to see in those incidents where people return with a firearm?"
RELATED: NBC's Pete Williams Identifies Navy Yard Gunman As Aaron Alexis, 34, of Ft. Worth, TX
Dr. Larry James, the associate vice president of Wright State University, replied that disheveled appearance, appearing to have "gone off the edge," or coming to work with a weapon were good indications that "workplace violence" might be imminent.
Earlier in the day, multiple sources – including the police – confirmed that several suspects were wanted in connection with this attack. AT the time of this broadcast, only one of those suspects had been cleared by police. The second remains at large.
Furthermore, multiple reports indicate that Alexis never worked at the Navy Yard, though he was a civilian contractor. Reports indicate that Alexis used the identification of a former Navy Yard employee to gain access to that site, but it is not yet clear if he was given that identification or he stole it.
Watch the clip below via MSNBC:
[Photo via screen grab ]
— —
> >Follow Noah Rothman (@NoahCRothman) on Twitter
Have a tip we should know? tips@mediaite.com