Touré Mocks S.E. Cupp For Saying 'Dog Whistle' Racism Charges Against The GOP Nearing 'Parody' Status
Touré Mocks S.E. Cupp For Saying Racism Charges Against GOP Nearing 'Parody' Status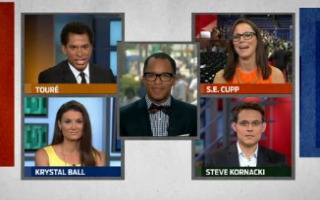 The hosts of MSNBC's The Cycle, S.E. Cupp and Touré clashed during a discussion about accusations by liberals that Mitt Romney's presidential campaign has been invoking themes meant to trigger racial animus among voters. Cupp called the charges of "dog whistle" racism a "parody" while Touré responded by adopting a mocking tone and suggesting that Cupp was being disingenuous when she claimed to be confused by the many charges of racial insensitivity.

RELATED: Liberal Crusade To Define Republican Attacks On Obama As Racist Descends Into Parody
In an interview with Washington Post columnist Jonathan Capehart, Cupp asked if he thought the attacks on the GOP for being racially insensitive had gone too far.
"The list of dog whistle words is growing into something of a parody. I mean, 'Chicago' is now something of a code," she said, referring to a comment made by fellow MSNBC host Chris Matthews.
She asked Capehart if Republicans cannot avoid the charge of racial insensitivity because they can neither exclude nor include minorities without inviting some charge of discrimination.
"Can Republicans ever win on this issue," Cupp asked Capehart.
"It's disingenuous to say that the party is not making a racial appeal to working-class whites," said Touré towards the end of the segment. Then, in a mocking tone, he imitated Cupp saying, "Oh my god, I just can't keep all the racial code straight in my head. That's just not right."
Watch the clip below via MSNBC:
h/t The Blaze
> >Follow Noah Rothman (@Noah_C_Rothman) on Twitter
Have a tip we should know? tips@mediaite.com