Touré: 'Obama Hatred' Clouding Glenn Beck's Brain, 'Islamophobia' Motivating His Saudi National Claims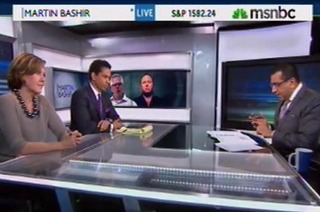 In a segment on Martin Bashir's MSNBC program on Friday, The Cycle co-host Touré said that The Blaze host Glenn Beck's accusations that a Saudi national may also have been involved on the attack on Boston on April 15 is motivated by a personal animus toward President Barack Obama. Salon editor-at-large Joan Walsh agreed and added that Beck's charges were "the culmination of five years" of the American right making Obama out to be "the other."

"Why haven't the FBI and the CIA issued an all-points bulletin for this man?" Bashir asked of the Saudi Arabian national Beck has indicated may have been involved in the Boston attack.
"Well, this man also kidnapped the Lindbergh baby and killed O.J.'s wife," Touré replied sarcastically. "We should take these claims by Glenn Beck extraordinarily seriously, because everything that he says is correct and never lunacy."
"Because Obama hatred does not cloud the brain and make you have bizarre thoughts that have nothing to do with reality," Touré added. "There's this desire I see here of using Islamophobia to explain everything, right?"
RELATED: Glenn Beck Reveals Details Of Saudi Detained After Boston Bombing, Challenges WH To Come Clean
He said that a complex world in which homegrown terrorists attack America is more easily explained by some by simply blaming Islamic radicals.
Walsh tagged Touré's observation by saying that Beck's mistrust of the president motivated his accusations against the Saudi.
"The third man – they make the third man exist because they have spent so much time demonizing this president, insinuating that he either has some Muslim ties or beliefs or else he's too soft, he's too politically correct, that this has to go together," Walsh said.
"This whole conspiracy theory is the culmination of five years of making this man not one of us, the other, and perhaps he does have a funny name," Walsh added.
"If he's lying about his basic identity, then we don't have to trust anything else he ever says," Touré added.
Watch the segment below via MSNBC:
> >Follow Noah Rothman (@NoahCRothman) on Twitter
Have a tip we should know? tips@mediaite.com