Touré On Geraldo Rivera's Senate Bid: He 'Is A Joke,' Has Been A 'Punch Line' For '20-Some Years'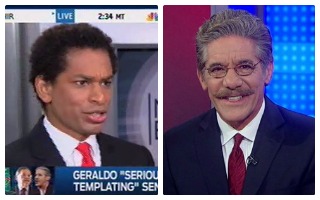 During an appearance on Martin Bashir's MSNBC program, The Cycle co-host Touré tore into the notion that Fox News Channel host Geraldo Rivera could be taken seriously as a Republican candidate for Senate in New Jersey. Touré called Rivera a "joke" and a "punch line," and added that Rivera's moderate social values are not compatible with the present Republican Party.

RELATED: Geraldo Wants To Lead 'A New Vitalization Of The Republican Party' As NJ Senate Candidate
"Geraldo Rivera is a joke," Touré said bluntly when asked about his electoral prospects. "Especially going to a serious political context – a total joke."
"Pro-immigration, pro-marriage equality, pro-choice – that doesn't sound like a Republican to me at all," Touré continued. He said he did not think Rivera could even generate support for his potential candidacy given his generally liberal social values.
"As a person for, what? He's been in American life for like 20-some years, or something like that? He's been a punch line over, and over, and over," Touré added.
The Cycle co-host Krystal Ball disagreed, saying that she hoped that Rivera would run in 2014. She noted that it would be good for the GOP to embrace diverse candidates with a broad array of social values.
Touré countered by saying that Rivera would not be the voice that "turned the party around" on issues like gay marriage and abortion rights. "It's a sideshow," he concluded.
Watch the clip below via MSNBC:
> >Follow Noah Rothman (@NoahCRothman) on Twitter
Have a tip we should know? tips@mediaite.com