Touré On GOP's Immigration Debate: 'Just Lining Up For Who's Going to Lose To Hillary'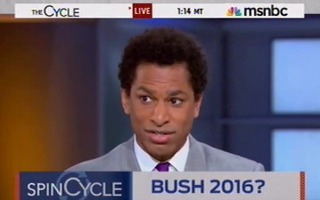 MSNBC host Touré weighed in on the ongoing internal debate the GOP is having regarding immigration reform. He commented on the immigration reform proposals of Republican politicians like former Florida Gov. Jeb Bush and Florida Sen. Marco Rubio (R-FL), but said that he still detects a note of hostility as politicians vie to craft a proposal that still blocks illegal immigrants from achieving full citizenship. Touré said that, as long as Republican politicians indulge the impulse to appease the party's right on immigration, their potential 2016 candidates are "just lining up for who's going to lose to Hillary [Clinton]."

RELATED: Jeb Bush Tells Hannity The GOP Needs One, Singular… Female Spokesperson: 'The World Is Changing'
Touré commented on Bush coming out against a pathway to citizenship for the nation's 11 million illegal immigrants when he had previously publicly supported a path to citizenship for illegal immigrants. Some political analysts thought that Bush was staking out a position to the right of Rubio on immigration ahead of the 2016 Republican presidential primaries.
"This whole moment seems a bit embarrassing," Touré observed. "It doesn't make him look bold, or smart, or authoritative."
"It reveals that he's got a lot of anxiety about what's coming from his right," he continued. "He's not worried about Hillary, he's worried about Rubio." Touré noted that he should be worried about Rubio, and cited polling data that shows Rubio leading the GOP 2016 pack among Republican primary voters.
"To me, I think, if the GOP is going to continue to say to popular people – adults in the room – that you're going to have to be far to the right on a pathway to citizenship in order to get through a GOP primary, that says to me they're saying, 'well, we have to continue to be hostile to Hispanic-Americans or undocumented Americans in order to get through a GOP primary," Touré added.
"That says to me, you guys are just lining up for who's going to lose to Hillary," the MSNBC host concluded. "You can't continue to insult this group of people – large group of people, Americans – and continue to win elections."
Watch the clip below via MSNBC:
> >Follow Noah Rothman (@NoahCRothman) on Twitter
Have a tip we should know? tips@mediaite.com