Touré Praises NBC's Cautious Reporting During Boston Attack, Critical When People In 'Lynch Mob Mode'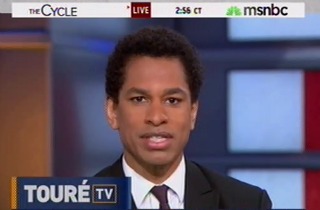 On Monday, MSNBC host Touré reviewed how the news media performed during the week bookended the attack on the Boston Marathon last Monday and the arrest of the last living suspect in that bombing on Friday evening. He praised the cautious reporting done by NBC News and lamented some of the erroneous reports broadcast by other media outlets. Touré said that, in moments when the nation is in "lynch mob mode," like those following the attack on Boston, cautious and accurate reporting is even more important.

RELATED: NBC News Beats The Competition, Is First To Report Correctly That No Arrest Made In Boston Bombing Case
Touré said that the chaotic environment following the Boston Marathon bombings was also a test for the news media, "and many outlets failed."
"In those moments, the egos of media people come out – wanting to show how connected we are that we can get the information first. Or, how smart we are that we can make the big assertion first," Touré said. "But, in environments like that, when the public and the authorities are in lynch mob mode yelling for a body to attack, media must take extra care to not stoke the wrong flames."
Touré criticized the "fetishization" among news media for being first with breaking news or new information about an ongoing story. He called the desire for journalists to be first with new information an "ego game."
Touré went on to praise NBC News justice correspondent Pete Williams who, during a fateful moment last week, was one of a small handful of network news reporters insisting that no arrest had been made in the Boston bombing case.
"When journalists make big mistakes like that, it reverberates onto all of us," Touré said. "We all pay for others' sins."
"Every day I'm here is an awesome responsibility," he added. "I try to repay the privilege of being a small part of an awesome news team, of an important function in American life, by being as accurate as possible, and resisting the urge to leap to conclusions that I'll later regret."
Watch the segment below via MSNBC:
> >Follow Noah Rothman (@NoahCRothman) on Twitter
Have a tip we should know? tips@mediaite.com