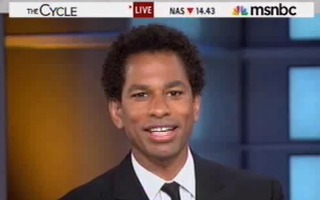 MSNBC's co-host of The Cycle, Touré, took on what he believes to be the pervasive myths surrounding race in a segment tackling the news of the week relating to racial issues. In the segment, Touré asserted that race was not a biological concept but a social one. "Race has no biological basis. Science rejects the concept," Touré contested, saying that race is instead "in our brains" rather than in our complexions.

In a segment called "This Week in Race," Touré delved into the racially charged issues that America confronted over the past week.
He took on Sen. Scott Brown's (R-MA) attacks on Democratic Senate candidate Elizabeth Warren's claim to Cherokee heritage. "Brown's mad she's claiming to be something she doesn't appear to be," said Touré. "Guess someone's never driven his pickup truck to a Vin Diesel movie."
Touré tackled conservative columnist George Will pondering in a recent opinion piece whether the nation will opt to reelect President Barack Obama because of his African American heritage rather than give up on the promising black politician in spite of the nation's ailing economy.
He went after The Daily Caller's Tucker Carlson for posting portions of a speech in which Obama chastised the federal government's response to Hurricane Katrina in 2007. Touré said Carlson had turned "Obama into Nat Turner, so beware of the scary black man."
Finally, Touré answered viewer mail that asks race-related questions. The final e-mailer asked Touré, perhaps farcically, "what is race?" The author of Who's Afraid of Post-Blackness, dove into that question unhesitatingly.
Touré said that race was not a biological issue, speaking scientifically. "That's why when people ascribe biological certainties to race, they sound racist. But race is real as a social construct."
Touré cited University of California, Berkley Law Professor Ian Haney Lopez who once wrote, "Race is neither an essence nor an illusion, but rather an ongoing, contradictory, self-reinforcing process subject to the macro forces of social and political struggle and the micro effects of daily decisions."
"Race is not scientific, but it's in our brains, brother," Touré concluded.
Watch the clip below via MSNBC:
> >Follow Noah Rothman (@Noah_C_Rothman) on Twitter
Have a tip we should know? tips@mediaite.com