Touré: Rubio 'Human Band-Aid On A Gaping Bullet Wound,' A 'Brown Face' Meant To Mask GOP's 'Whiteness'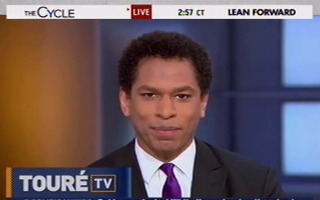 On Monday, MSNBC host Tourré tore into the Republican Party's efforts to elevate Sen. Marco Rubio (R-FL) in what the MSNBC host considered to be a transparent effort by the GOP to soften its image among young and minority voters. He called Rubio a "human Band-Aid on a bullet wound," and said that the junior senator from Florida is merely a "brown face" meant to mask the Republican Party's inherent "whiteness."

RELATED: Bad PR Is Better Than No PR: As Touré Shows, Shock Reigns Supreme In Cable News
Touré highlighted Rubio's theoretical ability to appeal to minority voters and the young, noting that the senator has been unapologetic about his love for hip hop artists like Tupac.
Touré noted that many young voters are amendable to Republican principles, but continue to oppose identifying with a party they see as harboring regressive and oppressive values. He said that the GOP may want to lean on Rubio to help eliminate that perception, but it will be a failed effort.
"What Tupac is to Rubio, Rubio is to the GOP – he is their attempt to patch its brand problems," declared Touré. "A human Band-Aid on a gaping bullet wound. A 40-something brown face meant to mask the GOP's age and overwhelming whiteness."
The MSNBC host concluded that Rubio's message is no different from that of Mitt Romney's — a message that voters rejected. But, given his relative youth and minority status, the GOP thinks that voters will be more receptive to Rubio.
Touré dismissed this notion. He said that Rubio cannot fix the structural problems attracting voters his party faces given its unpopular ideology. Touré concluded by saying that the only thing Tupac will help Rubio accomplish electorally is to psych him up for a future concession speech.
Watch the segment below via MSNBC:
> >Follow Noah Rothman (@NoahCRothman) on Twitter
Have a tip we should know? tips@mediaite.com