Touré Says There's Already a Benevolent Black Man Who Gives Gifts to Kids: Obama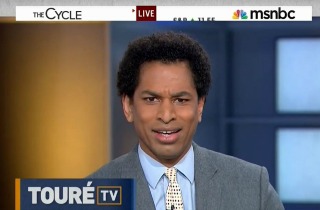 MSNBC host Touré weighed in with his thoughts on Monday on the controversy ignited by Fox News Channel anchor Megyn Kelly last week when she asserted that Santa Claus "just is white." Touré put a period on that controversy in his commentary on The Cycle when he said that the debate over the race of a mythical figure was off base. America's youth are already familiar with a benevolent black man with immense powers who gives gifts to children: President Barack Obama.

After airing a package report from NBC News White House reporter Kristen Welker, Touré thanked her but noted she did not go far enough. "Santa Claus is black. He just is," the MSNBC host mock-insisted.
RELATED: Slate Writer Who Began 'White Santa' Discussion Accuses Fox's Megyn Kelly of 'Playing the Victim'
"I, for one, am glad Santa is black because I don't want my kids worshipping some white dude who flies in to give them stuff," Touré continued. "Thinking a benevolent white man gives them stuff every year is good training for a life on welfare."
He added that he is not surprised by the resistance to the notion that a powerful figure like Santa could be black.
"The insistence he's not black and can't be black strikes me as an attempt to perpetuate white supremacy and to posit that whiteness is somehow normal and central while blackness is other or different," Touré continued. He insisted that "race is fictional" and, as a social construct, it bears little bearing on day-to-day life.
"You do know, there is already a generous, benevolent black man in your children's lives who lives in a place that is magical, who has given something to each and every American, whether they have been naughty or nice," the MSNBC host concluded. "You know who I'm talking about?"
Touré signed off by playing a portion of a parody video promoted by the White House featuring an Obama impersonator touting the benefits of the Affordable Care Act.
Watch the clip below via MSNBC:
Visit NBCNews.com for breaking news, world news, and news about the economy
— —
> >Follow Noah Rothman (@NoahCRothman) on Twitter
Have a tip we should know? tips@mediaite.com