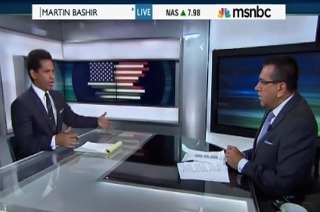 MSNBC host Touré tackled what he said were the misleading parameters of the conversation about race in American occurring on the political right. He said that conservatives are suddenly interested in black-on-black crime only as a means of diverting the conversation about George Zimmerman and the racial motives that led him to shoot Trayvon Martin. Touré added, as an aside, that Zimmerman was neither white nor Hispanic but a "Peruvian-American."

MSNBC host Martin Bashir accused Republicans of engaging in a "cynical ploy to stir up paranoia" by addressing the issue of black-on-black violence, but not having any interest in tackling the problem in a meaningful way.
RELATED: Touré Defends 'Journalistic' Concept Behind Rolling Stone's Boston Bomber Cover: 'Exploring Roots Of Evil'
"Now they're talking about black-on-black crime to block the conversation around a Peruvian-American — not Hispanic, a Peruvian — shooting a black man and the anger that has risen up," Touré said. "It's a blocking mechanism. It's a way of saying reverend Rev. [Al] Sharpton, you talk about race, you're talk about race baiter."
Touré said that conservatives were "in their mansions" preferring not to attend a racial violence summit in Chicago because they don't really care about the issue of inner-city violence.
"This is a 90 white party and everything that they need to do is to stoke white racial anxiety to bring more white people into the fore," the MSNBC host added.
Watch the clip below via MSNBC:
—-
> >Follow Noah Rothman (@NoahCRothman) on Twitter
Have a tip we should know? tips@mediaite.com