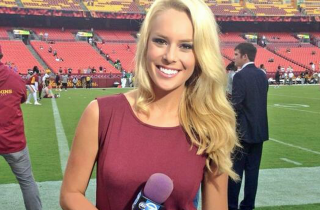 On Thursday afternoon, ESPN reporter Britt McHenry became a household name when leaked and edited surveillance footage showed her berating a towing attendant over her physical appearance and intelligence.
McHenry publicly apologized on Twitter, writing that she regrets failing to "choose to be respectful and take the high road." ESPN suspended her for a week as punishment, and now it turns out the towing company itself wishes to distance itself from any desires to see McHenry suspended or terminated as a result of her tirade.
-RELATED: Perino: ESPN's Britt McHenry Shouldn't Have Been Suspended, 'Wasn't on the Clock'
In a public statement from Arlington, Va.-based Advanced Towing, the company expresses forgiveness towards McHenry and claims that Gina, the employee involved in the exchange, "holds no ill will." Read the full statement below, via Washington Post:
To Whom It May Concern:

Parking enforcement is contentious by nature. At the same time, neither Gina, our lot clerk, nor our company, have any interest in seeing Britt McHenry suspended or terminated as a result of her comments.

Ms. McHenry is our neighbor, and, as she said, to paraphrase, made remarks that were out of line. She is human and errors in judgement can be made in the heat of the moment.

Gina is a single mother of 3 children who works a difficult job to provide her family. Gina holds no ill will toward Ms. McHenry.

As a small regulated business, we saw no benefit to releasing the video, except to highlight personal attacks employees in jobs like towing, public parking enforcement and others sometimes encounter. The video was not licensed or sold to anyone.

Advanced Towing Co.
Watch the original video here, via LiveLeak (WARNING: NSFW — EXPLICIT LANGUAGE):
[Image via Twitter]
— —
>> Follow Andrew Kirell (@AndrewKirell) on Twitter
Have a tip we should know? tips@mediaite.com