Tracy Morgan's Bizarre Take On Obama: He's A 'Gangbanger' Who Should Get A Face Tattoo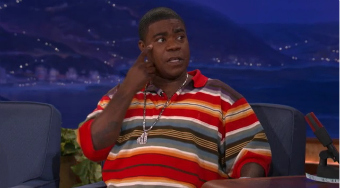 On Tuesday night's edition of Conan, comedian and 30 Rock star Tracy Morgan sat down for a rather bizarre interview that touched upon the 2012 election. Morgan told host Conan O'Brien that he might endorse Mitt Romney because the presumptive GOP nominee is from the heavily Mormon state of Utah, and therefore would make it easier for Morgan have four wives. But ultimately Morgan concluded that President Obama is doing a good job and is a "gangbanger" for killing Osama bin Laden and should get a face tattoo.
Morgan has a reputation for saying strange things, and he got started right away, telling O'Brien that he will call the host "C. Black" for "street cred" purposes, much to O'Brien's confusion. When the discussion turned to the 2012 election, Morgan explained that he has considered endorsing Mitt Romney:
MORGAN: Mitt Romney. He's from Utah, right? They're Mormons? They've got many wives?

CONAN: Yes.

MORGAN: There you go! Responsible leadership or four wives? I'm going with four wives.
A flabbergasted O'Brien asked "so you're going to endorse Romney?" Morgan replied that he might because all he wants to do with his life is "do karate and make babies."
When President Obama came up, Morgan said he might endorse the president because "he's doing a great job with the economics. We need money. Right, y'all?"
And when O'Brien asked whether the assassination of Osama bin Laden will help Obama's electoral chances, Morgan replied: "Yeah, I think he's a gangbanger."
"He should get a teardrop [tattoo] right here [next to his eye]," Morgan continued. Teardrop tattoos are usually a symbol of gang activity. When asked if Obama should get any other tattoos, Morgan joked that "he should get 'Michelle' across his neck right here. Like NBA players."
Take a look at the ridiculousness below, via TBS:
Have a tip we should know? tips@mediaite.com