Trayvon Martin Family Attorney Tells Bill O'Reilly: 'We Are Not Seeking An Eye For An Eye Here'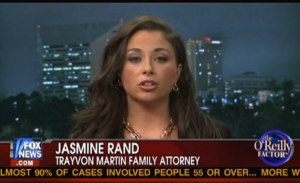 Jasmine Rand, an attorney representing Trayvon Martin's family, spoke to Fox News' Bill O'Reilly on Tuesday night about how the case has been unfolding. O'Reilly asked about the new information about Martin's school records, which Rand said bear zero legal relevance to case. Responding to the issue of the Black Panthers, Rand said the family does not support any calls for violence.
O'Reilly began by asking, "Are you satisfied with what the state of Florida is doing, appointing a special prosecutor in the case?" Rand said the family is pleased, and that we "hope that that will bring some transparency to the investigation, so that we can obtain justice on behalf of Trayvon."
"Basically," O'Reilly continued, "it's emerging that Trayvon had some problems. And the family does object to that."
"Trayvon was any normal kid in America," Rand replied, saying Martin's mother had it right when she commented on attempts to ruin Martin's reputation.
O'Reilly pressed, "In a case of this magnitude, shouldn't the public know the history of Trayvon? Is there anything wrong with knowing he was suspended three times from school?"
Rand responded, "The family's not ashamed of Trayvon, we're not ashamed of his school record. There's nothing wrong with the public knowing, but the public should also know that it has absolutely no legal relevance to the case at hand."
Okay, that's true," O'Reilly conceded. "Is all of this necessary, or should there be a gag order on the case, and let justice, you know, go underground?"
"The family's certainly not seeking a gag order," Rand said. "We're still seeking justice for Trayvon. And I think the evidence is very clear, that despite how the facts may unfold, Zimmerman pursued and was the aggressor the entire time. Trayvon managed to get away from him one time, but Zimmerman continued to pursue him, and found him a second time."
"Do you want justice for George Zimmerman?" O'Reilly asked. "Certainly," she replied, "the justice system is for everybody."
He then moved on the to Black Panthers and comments from Rev. Al Shaprton "that disallow Mr. Zimmerman from even walking the streets. How does the family feel about that?"
"We are not seeking an eye for an eye here," Rand said. "We're seeking justice. And all we want is for the truth and the justice to come out, and for him to be tried by his peers."
O'Reilly asked, "Does he repudiate, though, the Black Panthers?" Rand said, "We do not support any violent movement, or any call for racial violence." Asked about whether the family dispute's Sharpton's call for arrest when an investigation is not yet complete, Rand responded, "I cannot speak for the personal thoughts of the family members. I can say that we are thankful for the support of our national leaders."
Take a look, via Fox News:

Have a tip we should know? [email protected]