Trayvon Martin Protester: 'It's Not Legal To Hunt And Stalk Black Men In America'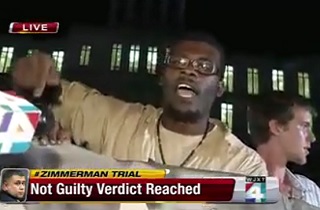 In the days leading up to the verdict in George Zimmerman's trial for the murder of Trayvon Martin, several panicky media types fretted over the possibility of violence in reaction to an acquittal. When that acquittal materialized Saturday night, Jacksonville reporter Vic Micolucci was at the Seminole County Criminal Justice Center to do some excellent reporting on the passionate, but peaceful, mood there. One protester voiced the feeling of many Americans following the verdict, telling the crowd "It's not legal to hunt and stalk black men in America."
While Micolucci's in-studio colleagues seemed very concerned for his safety, the reporter delivered a level-headed assessment of the scene at the courthouse last night, explaining that although many in the crowd expressed anger and frustration, the demonstrations were all peaceful. He also reported that, while there were pro-Zimmerman protesters present before the verdict came in, he couldn't find any to talk to afterward. "We're trying to talk with some people that are on the side of George Zimmerman," he said. "We don't know why they left. We had been talking to them earlier and we're looking. We're trying."
He also trained his microphone on a group of protesters who were featured in a CNN montage, and let viewers actually hear what was being said. "It's not legal to hunt and stalk black men in America," the protester said, "and be justified in killing a young black male for no reason. For no reason, because he looked suspicious. You're not a cop. You are not a vigilante. You are not God. You have no right to take another man's life for anything. Anything. Not nothing."
Micolucci said that there were "a hundred or so" protesters at the courthouse, and that there were "a lot of sheriff's deputies and police officers from all across the state to keep the peace.
Later in that same broadcast, Micolucci delivered another report that really gives you a sense of what events like this are really like, as he wandered through the courtyard, wending his way between various other media outlets doing on-the-scene hits. Micolucci's in-studio anchor, at one point, asked if he thought the pro-Zimmerman protesters had left "for their own safety."
"We didn't talk to any of them, so we can't say that, but it's what a lot of people are assuming here," Micolucci said. "It got a little hostile, not violent but people were yelling and screaming and crying. So I think a lot of people found out they got their way. They did not need to protest, so they went home or wherever they were going next. We tried to find people happy about the verdict, people that supported George Zimmerman all along and we couldn't find them. They were here all evening."
Despite his station's adherence to the premise that it was some kind of Christmas Miracle that no violence broke out, Micolucci's viewers got to see what it was actually like there at the courthouse, and that people can, indeed, be very upset about something without a riot breaking out. Normally, we call that the principle that this nation was founded on, the right of free speech and peaceful assembly, but for some reason, it became something else in this case.
Have a tip we should know? tips@mediaite.com